Let the Parades Roll!
Submitted by Christi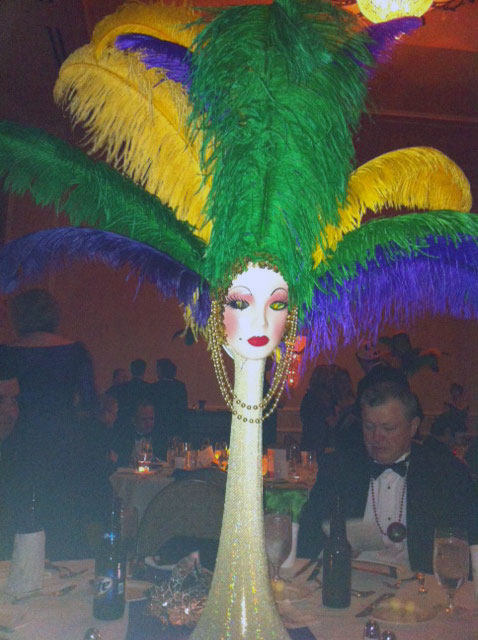 We are in the full swing of Carnival here in New Orleans. The beads are flying, the bands are marching, the floats are rolling, and it is truly something incredible to behold. As I mentioned in a past post, I was lucky to get to be a part of the  fabulous Mystic Krewe of Nyx when I first moved to New Orleans. Nyx will roll Wednesday night. People have asked me about that experience. So today, I am sharing the experience of being a part of a Carnival Krewe and riding in a Carnival Parade.
Krewes are the organizations which put on the parades, and each one is different. Some are secret and by invitation only, some are more open.
The real excitement for the krewe I was in begins at Twelfth Night when the krewe has a meeting to reveal the theme for the parade and go over some rules. There are lots of king cakes and costumes at this meeting. The theme for the parade was to be kept secret until we rolled. One year, the theme was NOLA Reality Reigns, and each float represented a reality TV show. The next year, it was What A Girl Wants, and each float represented a movie title that contained things women love. For instance, Diamonds Are a Girl's Best Friend. My float that year was Roman Holiday.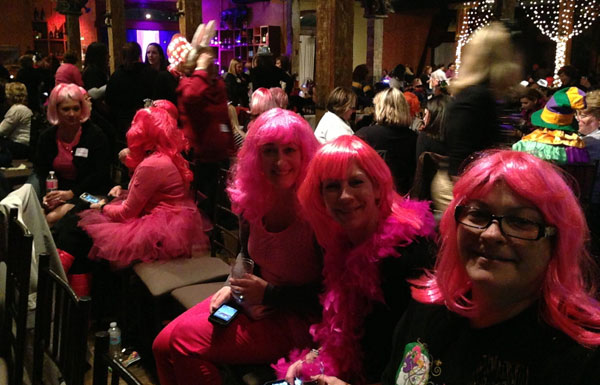 The rules are pretty easy but strictly enforced. Masks must be worn at all times when you are rolling (rolling means from the time the parade starts until it ends). This is actually a city ordinance. If one is found without a mask, they can be fined (by the city) and removed from the parade. You also must be harnessed to the float for safety. There are certainly plenty of rules, but we were encouraged to throw generously and have a great time. Oh, and the best advise offered – pace yourself. This is a fun and whirlwind time that is also exhausting, but in a good way.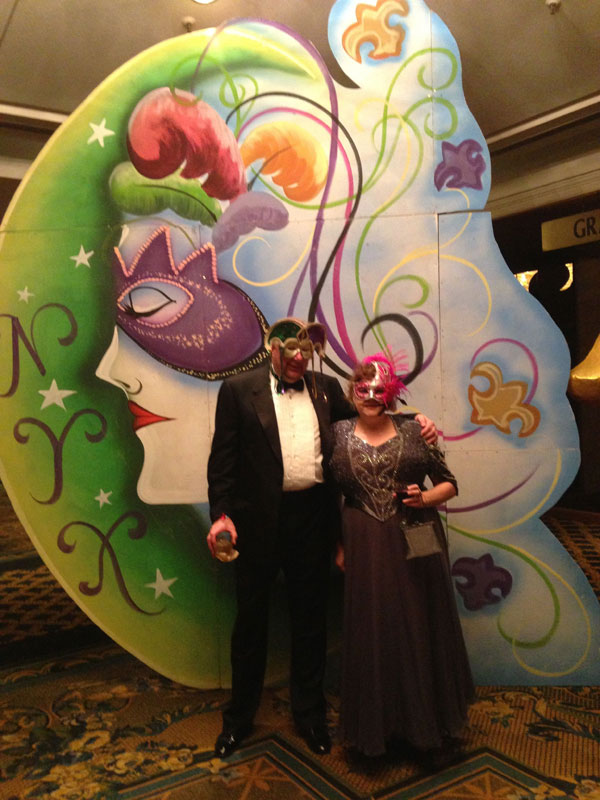 Between Twelfth Night and the parade, there are other events to attend, such as the Masquerade Ball.  The dress for our ball was black tie. Floor length gowns for women, tuxedos for men, and masks for all were required for admittance. Masks had to be worn until dinner was served (around 10 p.m.). We were treated to a high school band parading through the ballroom with a dance troupe following. Everyone looked so beautiful, and it was a very memorable, magical evening. Our ball went late into the night and ended with a breakfast buffet that was served around 3 a.m.
During the Carnival season, krewe members were busily creating their signature throws. For Nyx, these are purses – decorated with glitter and ribbon and lots of pretty sparkles. Krewe members learn to live with glitter everywhere, it just never seems to go away, and that is okay.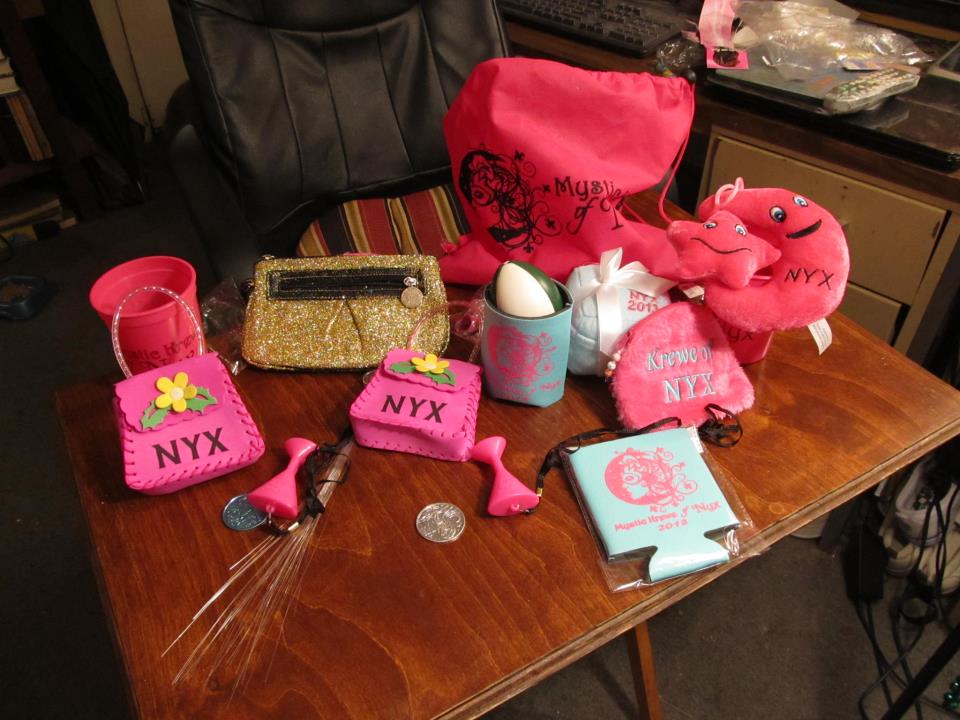 We also had a party for members when we picked up our costumes and masks for the parade.  Again, there was food and king cake and, of course, the signature drink, the Nyxtini.
The night before the parade, members arrived at the holding area for the floats to make sure they had their throws on board, in their riding position. This was the first chance to see the floats. The excitement at this event was palpable. Everyone was soooo ready to roll.
Finally, the parade day arrived! First thing to do was check on the weather. The years I rolled, the weather was not that friendly, so it pays to be prepared. The key was to dress for comfort. We would be on our feet for a long time, bending and reaching and throwing beads. It was going to be a long day.
The pre-party started around 1 p.m. All riders had to be there by 2 and then no one was allowed to leave. This is a time to just have fun and enjoy yourself before the parade. We had a headdress contest which may have involved a live chicken. We laughed and danced, and it was a whirlwind (and no chicken was harmed).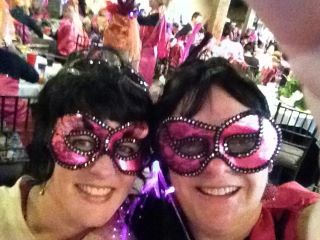 Around 4:30, the party was over. Time to board the floats and ride to the staging area. Our floats were waiting for us just outside. Hopefully, everyone had paced themselves because we still had the parade ahead!  We loaded onto the floats and rode with a police escort, down through the city waving to all who came out to see. No throws at this time. You had to wait until the parade officially started for that.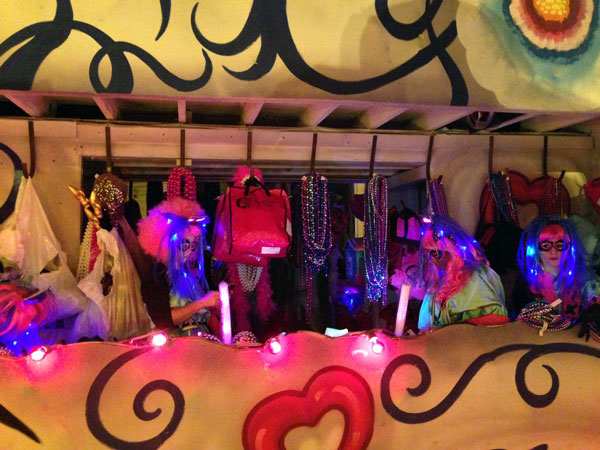 Once we arrived at the staging area, we started opening and hanging our beads on racks, prepared for throwing. We watched as bands and dancers lined up alongside, ready to roll with us. We admired all the floats. We had only seen them in the dark the night before. Now we had a bit of time to walk around and see the parade standing still, in readiness to begin. The parade route was the uptown route and would take around 3 hours to ride.
At 7 p.m. the parade begins. My position was on the sidewalk side (as apposed to the neutral ground side). I was on the lower level of the float. As we were rolling, I saw a sea of arms, reaching for throws. I began seeking out the people who would receive my signature throws. I was partial to older ladies. It was so great to see them beam like a little girl at receiving a Nyx purse. I also loved having special throws for the children. There were people with signs asking for doubloons. There were people with signs saying it was their birthday. There were people with signs saying they are from China and one from France. There were guys begging for a purse for their girlfriend. My friend Jeanette, who was standing next to me, excitedly informed me she had just given a throw to someone who was on the show Treme.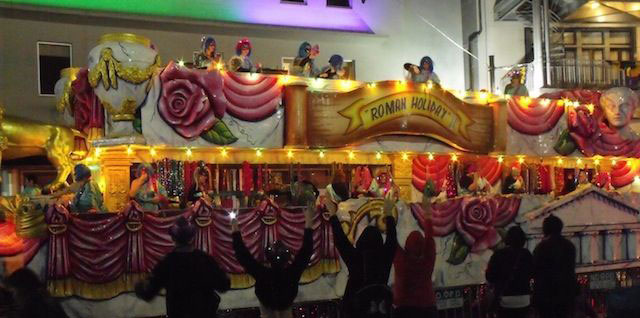 When you are rolling, you can lose track of where you are. You knew when your float made turns, but once you were on St. Charles, it was all just laughing and throwing beads and enjoying the experience. Towards the end of the parade, I started looking at how many throws I had left. The last thing I wanted to do was have a lot of throws to carry off the float. I tried to pace myself so I had plenty to throw for the entire route.  I had been throwing fast and furiously for hours. I tried to take a moment every now and then to stop and look around and take it all in.
Eventually, we rolled to a stop. Whew! What a ride. What a day. I looked around at all of the other riders who were smiling, like I was. They were exhausted, like I was. Many of the riders would be going to hang out and have an after-the-parade party where they would share their experiences of the day. Me, I'm headed home – happy and tired. It would take a little time to "come down" and be able to get to sleep. I enjoyed a glass of wine with my husband, sharing with him the experiences from the ride.
I knew I was going to be sore the next day. I understood, I needed some serious sleep, but I also knew there would be other parades to attend the next day. I had a great ride. This is what Carnival is all about. Laissez bon temps rouler!
Don't miss anything from A Southern Life!
Leave a Reply