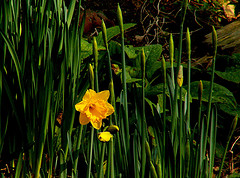 10 days to Spring!
The seeds that I planted last week are coming right along. The tarragon and basil have already sprouted. The cantaloupe I pre-planted is also coming up quickly. I had to plant a few things that germinate fast to help me have patience for the other things that take longer like the tomatoes.
It is another beautiful day and I am getting anxious to start planting outside, however, it is supposed to get cold again this week. I have learned the hard way not to set things out to early.
Hello to everyone from North Carolina. Y'all are now 3rd in the most  readers of this site. I remember being in Fayetteville on Easter one year and the dogwoods and azaleas were breathtaking. I have a funny story about an experience in Charlotte that I will have to tell y'all about sometime.
Thank you to everyone who visits and reads my ramblings. I wish I could personally meet everyone of you. I bet that would be a lot of fun.
Today's Lagniappe: Green Beans with Bacon
You probably don't need a recipe for this. Just watching my Mama taught me how to make it. Just in case your Mama didn't show you how:
* 2 1/2  pounds  green beans, trimmed
* 3  bacon slices
* 1/2  cup  chopped shallots
* 1  teaspoon  freshly squeezed lemon juice
* 1/4  teaspoon  salt
* 1/4  teaspoon  freshly ground black pepper
Preparation
Cook green beans in boiling water for 5 minutes or until crisp-tender. (Now, we know that Mama cooked them longer in the day but she might do it this way now).
Cook bacon in a Dutch oven over medium heat until crisp. Remove bacon from pan; crumble. Add shallots to drippings in pan; sauté 4 minutes or until tender. Add beans, juice, salt, and pepper to pan; toss to combine. Cook 5 minutes or until thoroughly heated, stirring often. Remove from heat. Sprinkle bacon over bean mixture; toss.