I'm blue today because there has been quite a change around here this weekend. The robins have left the nest. It seems so quiet. I have pictures of them leaving that I will post on Wednesday. They were so sweet. We have spotted them out with their parents since they left, but, the nest is quite empty.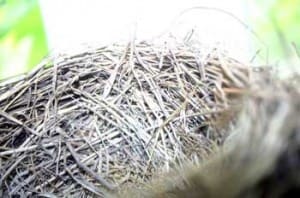 Now they have left the nest.
 I do have some great pics of their leaving I will post on Wednesday. Y'all have a great day and I'll see you tomorrow!
Today's Lagniappe: Baked Stuffed Tomatoes
A great way to use fresh summer tomatoes
6 med. tomatoes
4 tbsp. butter
3 tbsp. chopped onion
1/2 c. fine, dry bread crumbs
1 tsp. salt
Dash of pepper
1 1/4 c. grated process cheese
Wash tomatoes and cut a thin slice from each stem end; scoop out centers, chop and set aside; invert tomato shells and allow to drainMelt butter in small saucepan; add onion and cook until soft; remove from heat and stir in crumbs, salt, pepper, cheese and chopped tomato.
Sprinkle insides of tomatoes with salt, pile stuffing into shells and place in shallow baking dish. Bake at 350 degrees 20 to 25 minutes or until heated through. Serves 6.