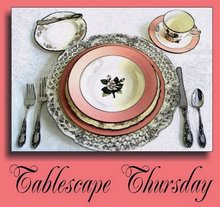 Another tablescape hosted by Between Naps on the Porch. Today's tablescape is "coffee on the porch." As you can see, my little doggie, Bailey, decided he liked the chair (or maybe he just wanted to be in the pics, the little ham).
The coffee set is one that I've had for several years. It isn't marked. I got it at an estate sale many years ago. I love the little cups.
A cup of coffee on the porch, a good book, a sunny Spring day, my sweet dog. Doesn't get much better than that!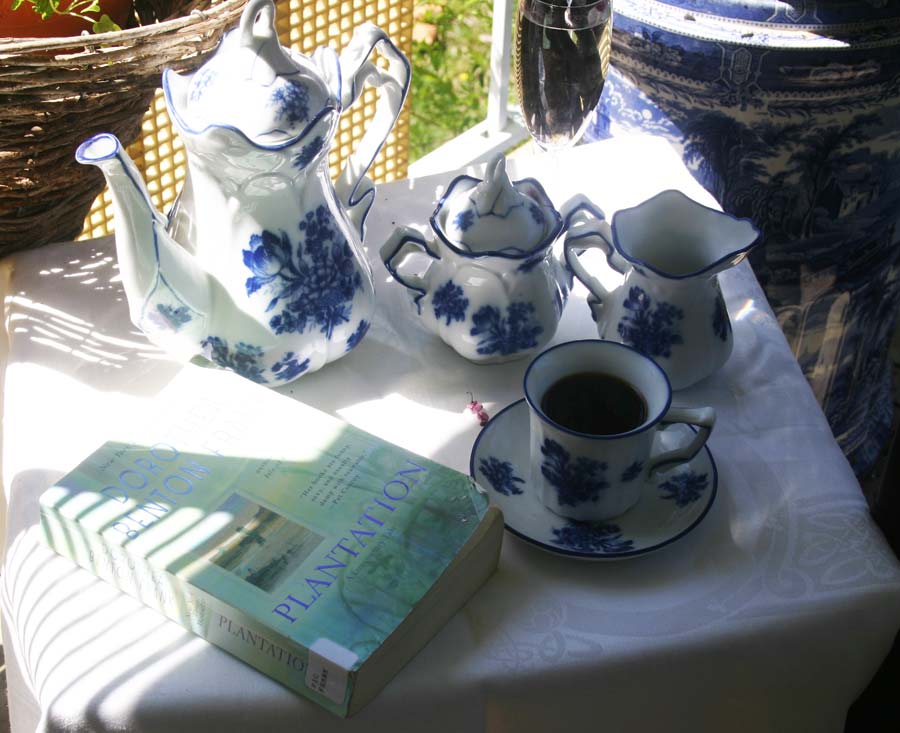 That's Bailey in the chair.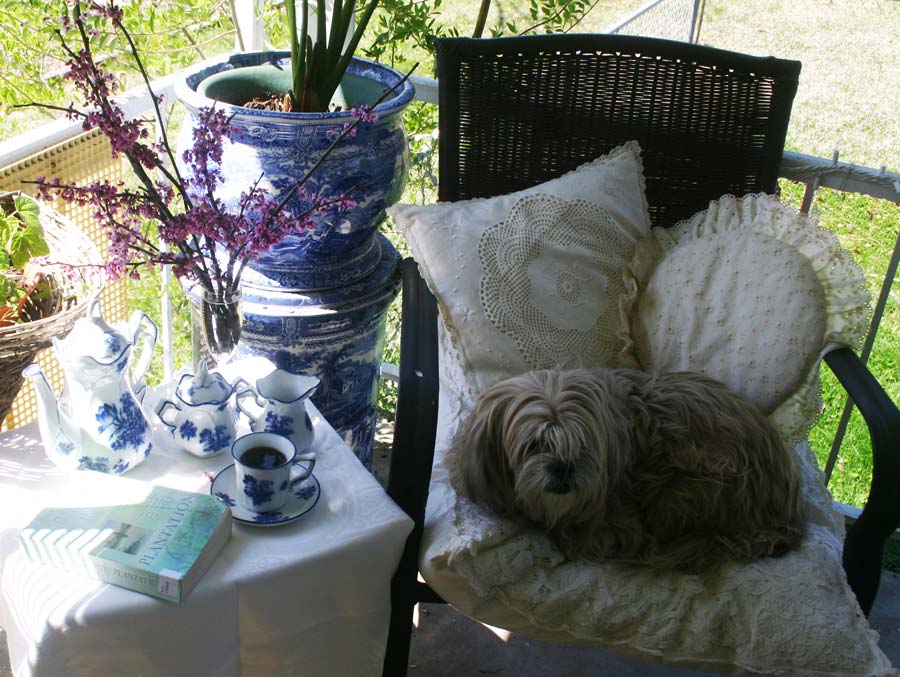 By the way, that is chicory coffee – my favorite!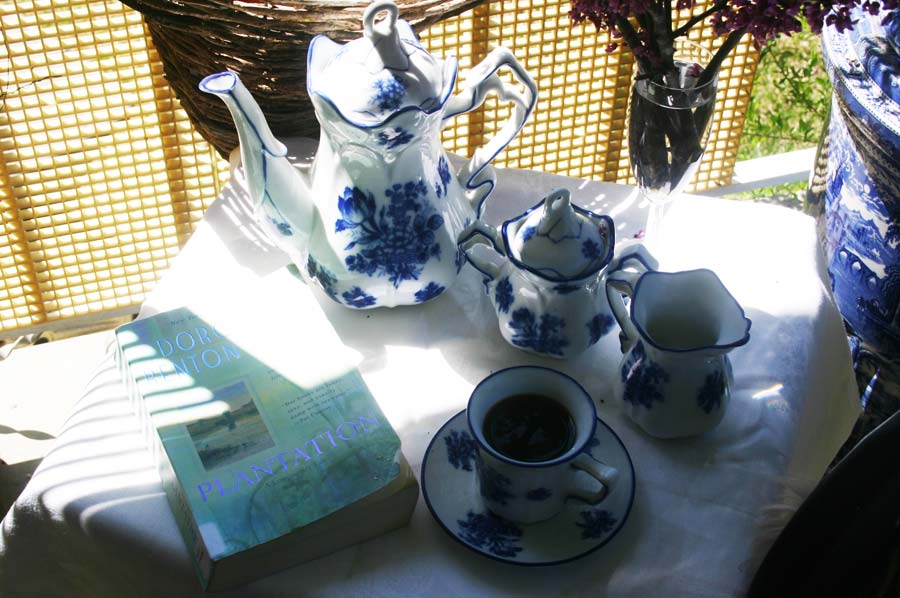 The book is Plantation by Dorothea Benton Frank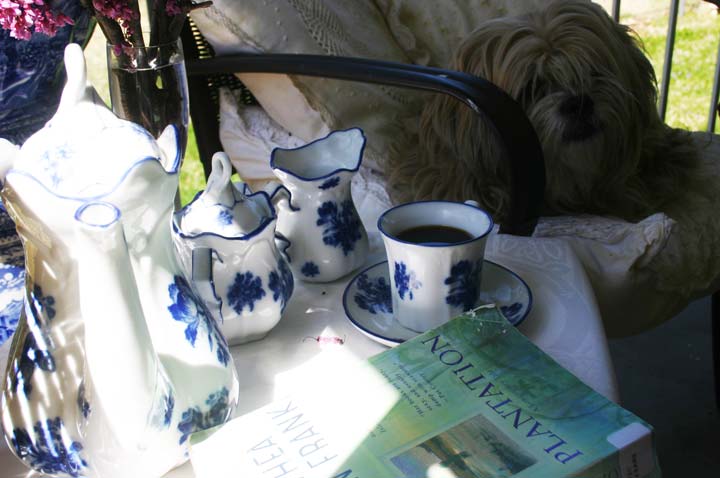 The garden seat and planter are very old. The plant in the planter is a bird of paradise that I've been growing for about 5 years. They say it will bloom in 7 years – only 2 years to go!!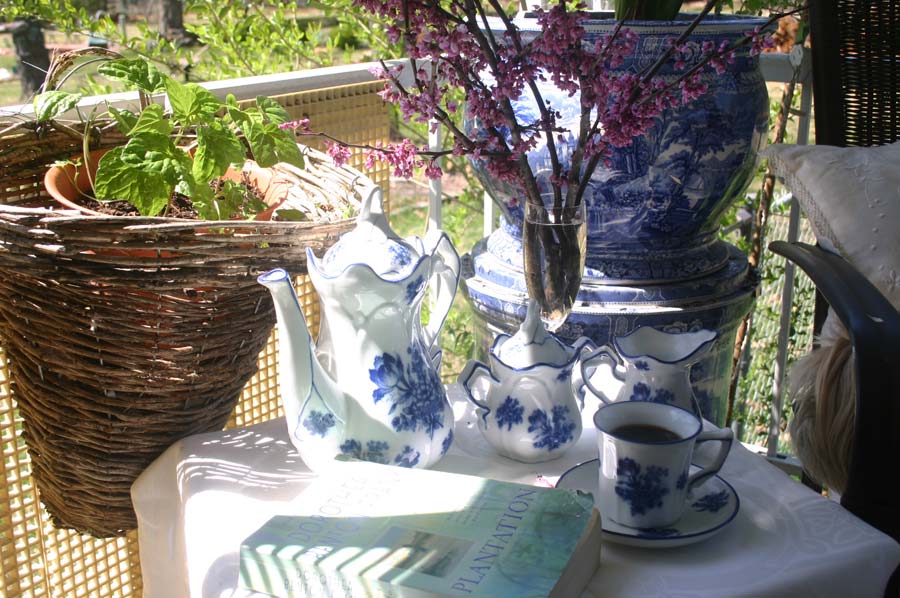 The plants in the straw basket planter are moon flower and morning glory. They will eventually climb an open lattice trellis that I have yet to put up. The moon flowers are white and bloom at night and the morning glories are blue and bloom in the morning so I'll have blooms during the times that I am usually on the porch.
Today's Lagniappe: Butterscotch Pecan Shortbread Cookies
The only thing that might make coffee on the porch better is these wonderful shortbread cookies made with pecans and brown sugar.
1/2 cup butter, softened
1/3 cup light brown sugar, packed
1/2 teaspoon vanilla
1/8 teaspoon salt
1 1/4 cups all-purpose flour
1/2 cup finely chopped pecans
In a medium size mixing bowl, beat butter, sugar, and vanilla together. Stir in salt and flour; add pecans, kneading in gently with hands, if necessary.
Press or gently roll out on a lightly floured surface; cut into circles or squares about 1/4-inch thick. Bake at 325° for about 20 minutes. Time will vary with thickness, so check them after 12 to 15 minutes if they're a little thinner.
Makes about 15 to 18 cookies.