You've met my friend Donna of the fabulous Donnadots before. Now she is redoing her bathroom. Here are the before pictures.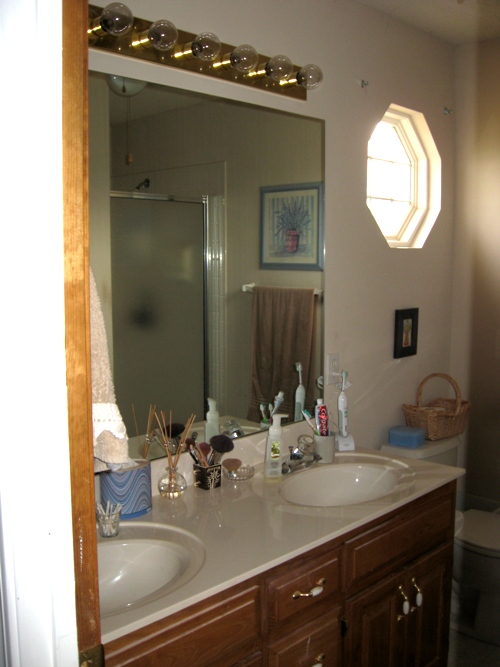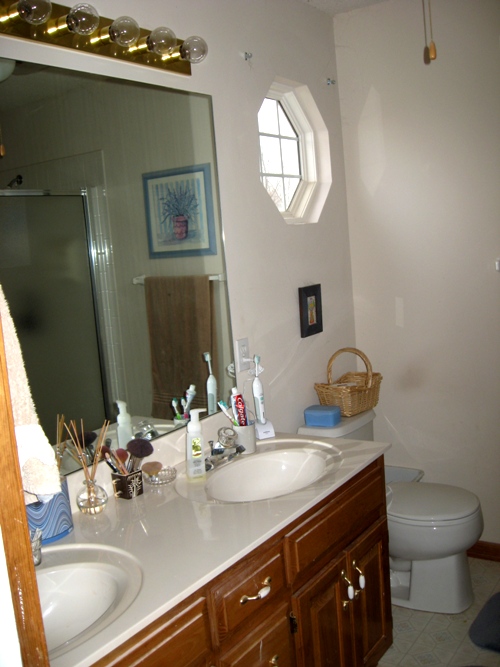 I kind of like that octagonal window. She is planning on painting the walls tan and replacing the light fixtures. I will post "after" pics as she gets finished with the project. What do you think? Any suggestions? Check out what metamorphosis' are going on at:
Today's Lagniappe:  Muffuletta Pinwheels
An appetizer version of a New Orleans favorite from All Recipes.
1/3 cup finely chopped pimento-stuffed
green olives
1/3 cup finely chopped black olives
1/2 teaspoon dried oregano
extra virgin olive oil
2 (8 ounce) packages cream cheese,
softened
1 pinch dried oregano
1 pinch garlic powder
5 (10 inch) flour tortillas
1/4 pound thinly sliced ham
1/4 pound thinly sliced provolone cheese
1/4 pound thinly sliced salami
1/4 pound thinly sliced mozzarella cheese
Combine green olives, black olives, 1/2 teaspoon oregano, and oil in a small bowl. Set aside. Beat together cream cheese, pinch of oregano, and pinch of garlic salt. Spread the mixture onto tortillas. Sprinkle olive mixture over the top of each. Starting at the top of each tortilla and about 1/8 inch down place a slice of ham, provolone, salami, and mozzarella slightly overlapping each slice.
Roll the tortillas up and wrap in foil. Chill for at least 2 hours.
Remove the foil and slice on a 45 degree angle into 1-inch pieces.