It is another beautiful Sunday here in my neighborhood! I'm so thankful for a day of rest. Things have been so crazy busy around here, it is good to rest and re-charge. It is also time for: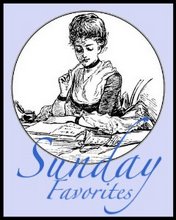 with Chari at Happy to Design. Hope you have a great Sunday morning. This is a favorite from last year called
Southern Retro
Back in the late 80's my little sister got married. Before her wedding, my Grandpa's wife, Betty, hosted a beautiful bridesmaid luncheon in their home. Betty is a wonderful person and a most gracious hostess. For this luncheon, she served this unbelievably delicious chicken dish. Recently, I asked my sister if she still had the recipe. She told me she had made it many times and she sent it to me with her notes.
CHICKEN DELIGHT
4 chicken breast, cooked and cut into small pieces (I usually use 5)
1 2oz. Jar pimientos
1 8 oz can sliced water chestnuts
½ cup slivered almonds
¼ tsp. Celery salt
dash of pepper
2 TBsp. Lemon juice
1 cup mayonnaise
1 cup cream of chicken soup (or mushroom)
1 3 oz. Can onion rings
Mix chicken, pimientos, water chestnuts, almonds, celery salt, pepper, lemon juice, mayonnaise, and chicken soup. Bake at 350 for 30 minutes. Sprinkle with onion rings and bake for another 20 minutes. (Serves 4)
This is a really good recipe if you are cooking for a luncheon.
Here are some pics from the shower (remember, this was around 20 years ago!).
How do you love the big hair?!
Alright, I'm outa here. Headin' to Vicksburg, Mississippi this weekend. My husband attended All Saint's Episcopal School there and we are going to meet with some people about a reunion planned for the fall. Happy Weekend everyone!
Want to find some great recipes? Head on over to Foodie Friday with Designs by Gollum!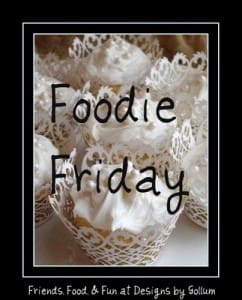 Today's Lagniappe: Linda's Holiday Chicken Salad
My sister, Linda also sent me the recipe for this casserole that she says is wonderful. Haven't had a chance to make it yet, but, trust me, if she says it is good, it is!
Stew 4 chicken breast ( I usually do 5) reserve broth
Combine ½ cup melter butter
seasoning packet
2 Stove Top Stuffing mix ( I use wild rice)
Combine 2 cups sour cream
2 cans cream of chicken (or mushroom) soup
1 ½ cups broth
In 9 X 13 dish:
1. put layer of crumb mixture
2. chicken
3. liquid mixture
4. remaining crumbs
5. top with slivered almonds (don't add until ready to cook, if your freezing)
Bake at 350 30 minutes