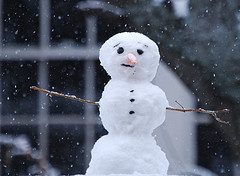 **
In the upper Midwest, they are experiencing extreme cold. Here we are bracing for some cold weather ourselves. The high here tomorrow is supposed to be 24! No snow in the forecast however. In the North, they take snow and cold weather in stride. In the South, we  shut down. No school, government offices close, trash pickup is delayed and even the mailman has been known to have a day off. Then there is the phenomenon of the grocery store rush. We all flock to the grocery store and clear the shelves. For some reason, bread is very popular for snow preparation. We are ready to be socked in for weeks by the half inch of snow expected.
When we do get snow we go out and make scraggly looking snowmen and try to find a bank of snow deep enough to gather snow for snow ice cream. Snow is an event in the South. It is like a holiday. We enjoy it while we have it because we know that soon it will be gone and we will be left with extra loaves of bread on our shelves.
What is your favorite snow day activity?
Today's Lagniappe: Recipe for Snow Ice Cream
8 cups of snow
1 (14-ounce) can sweetened condensed milk
1 teaspoon vanilla extract
Directions
Place snow into a large bowl. Pour condensed milk over and add vanilla. Mix to combine. Serve immediately in bowls.
Christi's note: This recipe may be halved in event of not being able to find 8 cups of clean snow!