Happy Good Friday to all!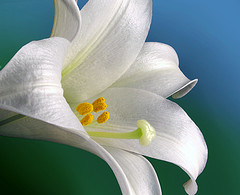 Julia at

has a fun party this Friday, called Freaky House Photos Friday. I couldn't resist this one. Okay, all my Realtor friends, watch out. I found some fun rooms in your MLS pics. Click on any of the pictures to see the show!
Truly, I know that real estate agents cannot help how their clients decorate. This is why I don't think I could be a real estate agent. I don't know that I could keep my mouth shut 🙂
It is also:
So, we need an easy Easter recipe.
Easy Easter Pie
2/3 c Boiling water
1 pk (4-serving size) Jell-o, any flavor
1/2 c Cold water
Ice cubes
8 oz Cool Whip whipped topping,
Thawed
1 Ready-made Graham Cracker
Pie Crust (6oz)
Stir boiling water into gelatin in a large bowl for 2 minutes or until completely dissolved. Mix cold water and ice to make 1 1/4 cups. Add to gelatin, stirring until slightly thickened. Remove any remaining ice.
Stir in whipped topping with wire whisk until smooth. Refrigerate 10 minutes until mixture will mound.
Spoon into crust. Refrigerate 4 hours or until firm.
Garnish with additional whipped topping. Add jelly beans, Hershey kisses, small chocolate Easter eggs, etc.
It is looking like Easter around our house:
Love the colors of Easter. Enjoy seeing more Easter color with:
Wishing you all a very blessed and
Happy Passover and Easter!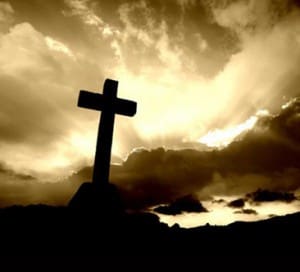 Today's Lagniappe: Hershey's Egg Wreath
I saw this great idea at the Hershey's site and wanted to share it with you.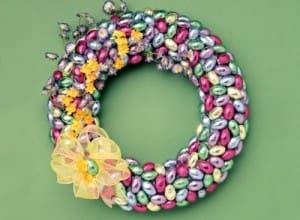 Supplies:
* Five 9 oz. bags of HERSHEY'S Solid Milk Chocolate Eggs (foil covered)
* 12″ diameter foam wreath
* 5 yards of white or pastel satin ribbon 2″ width
* Glue sticks or low temperature glue gun
Instructions:
Cover the foam wreath by wrapping the satin ribbon around the wreath, when completely covered, cut off excess length, and secure the end with a dab of glue. Save left over ribbon to make a bow to decorate the wreath.
Begin gluing the foil-covered eggs to the top center of the wreath; continue around the top and down both sides, alternating colors and angles of the eggs to add interest.
After wreath is completely covered with eggs, finish by attaching the sprigs of silk flowers and the bow made from the remaining ribbon.
Completed craft is for decorative purposes only. Candy used in craft should not be eaten.