Southern Ice
Submitted by Christi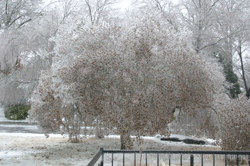 I woke up this morning to an icy wonderland. It is eerily quite. No cars driving past, no one out walking their dogs. Every now and then I here the crash of tree branches breaking and falling to the ground. This is the first Winter storm this year but it is doing a lot of damage. I just hope we don't lose power. I'm making beef stew today. If we lose power, I can at least heat it up on my gas stove. Hopefully it won't come to that.
Today's Lagniappe: Beef Stew
Lightly dredge 2 lb. of stew meat in flour. Brown the meat in a little oil in the bottom of a dutch oven. When the meat is brown, add a couple of potatoes and 3 or 4 carrots that have been cut into bite size chunks 1 can of beef broth, 1 lg. can of tomato sauce, 2 cups red wine, a few tablespoons of Worcestershire, garlic powder, salt and pepper (to taste).  Bring to a boil and then simmer for a couple of hours. Serve with cornbread.
Sorry for the vague measurements. I am trying to write fast in case we lose power.
Tags: Living, recipes, Southern Ice
2 Responses to "Southern Ice"
Leave a Reply