Southern Lady
Submitted by Christi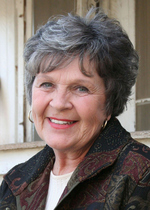 My friend, Linda Howell, is a true Southern lady. She is warm and gracious and funny. Linda is an actress. She is a National Chautauqua Scholar who performs as Laura Ingalls Wilder and gives stunning performances as a part of the We the People Players who perform War Letters by Andrew Carrol.
I attended a meeting with Linda where a woman started pretty much telling us how she thought Southerners were uncultured. Oh my stars, that was funny. Miss Linda smiled and told her she was sorry that was her experience and then went on to tell her about several of the talented, successful people from our small town. I'm not sure that the other woman got it, but she had just been told off in the quintessential way that only a true Southern lady can do.
Linda is fun. After going to lunch together one day in January, she was saying that we needed to have good luck this year. She said "I know where there is a buckeye tree! – Let's go get some." She said this as she was passing the turn off to my street. She continued to her friend's house and there, sure enough, was a buckeye tree. We got out and found a few to keep for good luck. Unexpected little side trips like that are not unusual when you are riding with Linda.
It's good to have good friends.
Today's Lagniappe: Mediterranean Salad
The weather is warm this week and it puts me in the mood for a good salad.
1/2 lb. small new red potatoes
1/2 C. olive oil
2 Tbs. fresh lemon juice
1 crushed garlic clove
1/2 tsp. dried oregano
1/2 tsp. dried basil
1/4 tsp. salt
1/8 tsp. ground pepper
6 C. mixed salad greens
1 large tomato, cut into thin wedges
1 green pepper, cut into thin rings
1 small purple onion, cut into thin rings
1 cucumber, thinly sliced
1/2 C. feta cheese, crumbled
Directions
Cook the potatoes in boiling salted water about 25 minutes or until they are tender. Drain well, and cool to warm. Thinly slice and place them in a serving bowl. In a jar or measuring cup combine the oil, lemon juice, garlic, basil, oregano, pepper and salt. Mix well with a whisk or place the lid on the jar and shake. Pour over potatoes and marinate for 1 hour. Drain the marinade off into a measuring cup, and set aside the potatoes. Place the greens in a large salad bowl. Arrange the potatoes, tomato wedges, green pepper, red onion, cucumber, and Feta cheese over the greens. Serve with the marinade on the side for a dressing.
Tags: Southern Friends
5 Responses to "Southern Lady"
Leave a Reply