Southern Ramblings
Submitted by Christi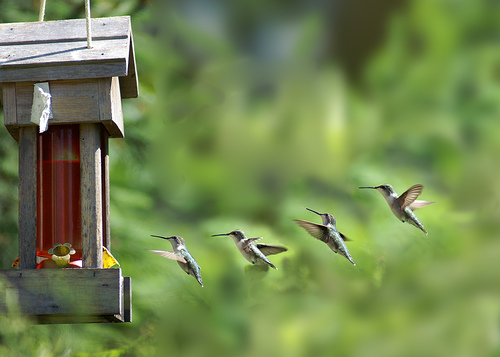 1 day until Spring!
Okay, now that St. Patrick's Day is over, I'm ready to decorate for Spring. I'm going to try to get to that this weekend. Today, I have meetings and tomorrow I have meetings and then am leading a seminar. The seminar is over at 4 p.m. so I'l be ready to start the weekend after that and . . . the next day is the first day of Spring!
March 21 is also my husband's birthday. How great is that to be born on the first day of Spring? Anyway, back to decorating, I've got to get out in the garage and look for what I've got and decide what I might want to do different. I love the switch from winter to Spring. It feels like the house is taking off an over-heavy coat and jumping to shorts and flip flops.
I put my seedlings outside yesterday (in the shade) to start hardening them off. I had planned to move them inside last night but, forgot. I woke up in the middle of the night and thought about going out and moving them back in but it is really hard to get me out of bed once I'm asleep. Oh well, I think it only got down to around 50 last night so all is well. Can't wait to get them in the ground.
Today's Lagniappe: Hummingbird Cake
The ultimate Southern cake
* 3 cups all-purpose flour
* 2 cups granulated sugar
* 1/2 teaspoon salt
* 2 teaspoons baking soda
* 1 teaspoon ground cinnamon
* 3 eggs, beaten
* 1 1/4 cups vegetable oil
* 1 1/2 teaspoons vanilla extract
* 1 can (8oz) crushed pineapple, well drained
* 1 cup chopped pecans
* 2 cups chopped firm ripe banana
* Cream Cheese Frosting:
* 16 ounces cream cheese, softened
* 1 cup butter, room temperature
* 2 pounds confectioners' sugar
* 2 teaspoons vanilla extract
* 1/2 to 1 cup chopped pecans
Preheat oven to 350°. Sift flour, sugar, salt, baking soda and cinnamon together into mixing bowl several times. Add eggs and salad oil to the dry ingredients. Stir with a wooden spoon until ingredients are moistened. Stir in vanilla, pineapple and 1 cup pecans. Stir in the bananas. Spoon the batter into 3 well-greased and floured 9-inch round cake pans. Bake for 25 to 30 minutes,or until a wooden pick or cake tester inserted in center comes out clean. Cool in pan for 10 minutes, then turn onto cooling rack. Cool completely before frosting.
Cream Cheese Frosting:
Combine cream cheese and butter; cream until smooth. Add powdered sugar, beating with an electric mixer until light and fluffy. Stir in vanilla.
Frost the tops of all 3 layers, stack and then frost sides. Sprinkle top evenly with the 1/2 to 1 cup chopped pecans.
Tags: Southern Decorating, Southern Living
Leave a Reply