Southern Roses
Submitted by Christi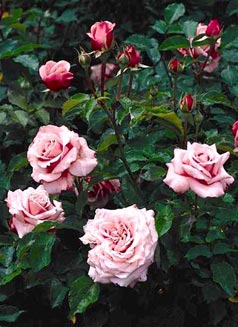 This past weekend I planted a rose bush. At another home, I had 21 rose bushes. I love growing roses! It is really late to be planting in my zone (6b) but I found this rose bush on sale and couldn't resist. It is a large bush rose. I've grown many of the mannerly tea roses but I must say, the bushy roses are my favorites. One of my all time favorite roses that I have ever grown was Frederick Mistral. Large, bushy, prolific pink, fragrant blooms – it was wonderful. They held up great in a vase and the bush was disease resistant.
Resistance against black spot is really important in the South where it is so humid. Even the disease resistant roses must be watched carefully for black spot. One of my favorite sources for roses is The Antique Rose Emporium. They sell roses on their own roots (rather than grafted). The roses I have ordered from them in the past were always healthy and did very well.  I just love going to their site and looking at the pictures. Once the rosebush I planted starts blooming, I'll post pics.
Happy Monday everyone – have a great week.


Today's Lagniappe: Easy Paella
This is twist on  Ina Garten's recipe that is posted on the Food Network. I make a less expensive version by substituting shrimp for the lobster and I use a small amount of tumeric to substitute for the saffron when I don't have it. Saffron Crocus are easy to grow if you want to harvest your own. They flower in the Fall.
P. S. Tumeric will not give the same flavor as saffron and is used just for coloring. It does have a strong flavor so use it sparingly.
* 1 1/2 cups chopped yellow onion (2 onions)
* 2 red bell peppers, cored and sliced into 1/2-inch strips
* 2 tablespoons minced garlic (4 to 6 cloves)
* 2 cups white basmati rice or saffron rice
* 5 cups good chicken stock
* 1/2 teaspoon saffron threads, crushed or 1/4 teaspoon tumeric
* 1/4 teaspoon crushed red pepper flakes
* 1 tablespoon salt
* 1 teaspoon pepper
* 1/3 cup licorice-flavored liqueur (recommended: Pernod)
* 1 1/2 pounds cooked lobster meat or shrimp or combination
* 1 pound kielbasa, sliced 1/4 to 1/2-inch thick
* 1 (10-ounce) package frozen peas
* 1 tablespoon minced fresh flat-leaf parsley leaves
Directions
Preheat the oven to 425 degrees F.
Heat the oil in a large ovenproof Dutch oven. Add the onions and cook over medium-low heat for 5 minutes, stirring occasionally. Add the bell peppers and cook over medium heat for 5 more minutes. Lower the heat, add the garlic, and cook for 1 minute longer. Stir in the rice, chicken stock, saffron (or tumeric), red pepper flakes, salt, and pepper and bring to a boil. Cover the pot and place it in the oven. After 15 minutes, stir the rice gently with a wooden spoon, and return it to the over to bake uncovered for 10 to 15 more minutes, until the rice is fully cooked.
Transfer the paella back to the stove top and add the licorice-flavored liqueur. Cook the paella over medium heat for 1 minute, until the liqueur is absorbed by the rice. Turn off the heat and add the lobster, shrimp, kielbasa, and peas and stir gently. Cover the paella, and allow it to steam for 10 minutes. Sprinkle with the parsley, garnish with lemon wedges, and serve hot.
Tags: Southern Gardening
Leave a Reply