Southern Spring Fluff
Submitted by Christi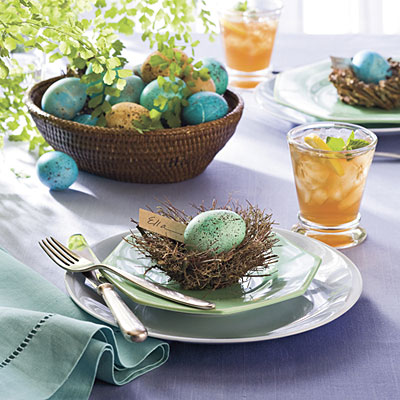 I started out yesterday to fluff the house for Spring. I got as far as a Spring tablecloth on the dining table and a couple of decorations featuring Easter eggs until I was compelled by forces unknown (or maybe the beautiful blue sky and the 70 something degree temps) to get outside and get my seedlings in pots.
As I sat in the sun getting my hands dirty, I was thinking how good those home-grown tomatoes are going to be and how I love the smell of basil. I was remembering harvesting okra with my grandmother. Okra is not the most fun thing to harvest but I love to eat it. Growing things give me a sense of well-being that just feels good.
I'll get back to the fluffing as I have time and post some pics. Today's lagniappe is from the book I am currently reading called The Isle of Palms by Dorothea Benton Frank set in South Carolina. Thanks to Mari at http://beachwalkermari.blogspot.com for the recommendation. They talk a lot about food in this book. The scene where the main character, Anna, has Sunday dinner with her neighbors is mouth-watering – fried chicken and biscuits, red rice and snap beans – Yum!
Today's Lagniappe:  Anna's "Gourmet" Pasta
Quoting straight from the book:
First, you fry four pieces of bacon until it's really crispy and then drain it. In some of the same grease – not too much or your heart will explode – you cook a chopped onion and dissolve a chicken cube. Then, you throw in a can of tomatoes and crumble the bacon back in. Cook and drain the pasta, throw it in the sauce, stir around some Parmesan cheese, and baby child, it's Yum Yum Time.

Add frozen garlic bread, salad in a bag, and I'm feeling like the fastest cook in the East, or something.
Photo from Southern Living
Tags: Southern Decorating, Southern Living
Leave a Reply