Southern Garden Herbs
Submitted by Christi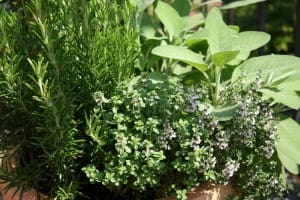 Still working on the dream garden. It must have herbs. Lots and lots. I have always loved growing herbs. In addition to cooking with herbs, I have enjoyed growing herbs to connect to a history of herb use for all sorts of things. I searched out books on how traditionally people have used herbs for illness, cooking, good luck, bad luck and all sorts of things. It is interesting to grow things that have a story.
Here are a few of my favorites:
Rosemary – It's very name is rooted in legend. The story goes that when Joseph and Mary were fleeing Egypt, Mary draped her blue cloak on a Rosemary bush. She then laid a flower on top of the cloak. That night, the flower turned blue and, thereafter, the bush was know as the "Rose of Mary: or Rosemary. It is believed to strengthen the brain and enhance memory.
Sweet Basil – It's name means "be fragrant," and it is.  Greeks despised it but the Romans loved it and made it a symbol of love an fertility. Today, it is planted in homes by Hindus to bring happiness to the family.
Dill – It's name is derived from the old Norse word, "dilla" meaning "to lull." It was used to lull babies to sleep. Romans used it as a stimulant for gladiators. It has also been used as an antidote for witchcraft and sorcery.
Garlic – It was worshiped by the Egyptians and they fed it to the the workers building the Great Pyramid at Giza, around 2600 B. C.  It was eaten by Greek athletes who believed it gave them strength. It has been used to ward off evil in the form of vampires and fleas.
Parsley – Medieval Europeans believed they could kill their enemies by plucking a sprig of parsley while speaking their enemy's name. Roman put it around their necks to absorb fumes (don't ask me what that is about).
Sage – It's name is derived from the Latin word, "salia," meaning "to save." In ancient times, sage was used medicinally to cure snake bites and invigorate the body and mind. It has been burned to eliminate bad odors. It is now used as a culinary herb.
Thyme – The traditional story is that Thyme was in the straw bed of the Christ Child. Ancient Greeks considered it a symbol of  sacrifice and courage. Thyme has been used to treat melancholy and to improve digestion and has even been recommended as a cure for a hangover!
Growing herbs and enjoying learning about history at the same time! Who wouldn't love that?
Enjoy more of the outdoors with A Southern Daydreamer's Outdoor Wednesdays.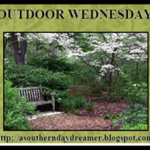 Today's Lagniappe:  Herb Cheese Puffs
Traditional pate a choux pastry with herbs and cheese – Yum!
1 stick of butter
1/4 teaspoon salt
1 cup water
1 cup all-purpose flour
4 eggs
1 cup coarsely grated Gruyere cheese
1 tablespoon each of fresh, chopped parsley, chives and dill (or whatever combination of herbs you like).
Preheat oven to 425 degrees
In a saucepan, combine the butter, salt and one cup of water. Bring to a boil. Remove from heat and add the flour all at once. Beat well with a wooden spoon until the four is well mixed. Return the saucepan to moderate heat and cook until the dough pulls away from the sides of the pan.
Remove from the heat and beat in the eggs, one at a time (a hand mixer makes this job much easier). Stir in 2/3 cups of the cheese and the herbs.
Drop the pastry dough by tablespoonfuls onto a lightly greased baking sheet. Sprinkle with remaining cheese and bake for 25 to 30 minutes until puffed and golden brown.
Tags: Southern Gardening, Southern Living
8 Responses to "Southern Garden Herbs"
Leave a Reply