Southern Garden
Submitted by Christi
Several years ago, I built this herb planter. It originally resided on a side porch. Now it is in my yard.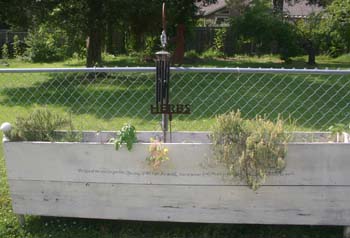 The thyme that is hanging over and the thyme in the left corner have been there for about five years.  The rosemary really struggled this past winter with the ice storms. It has come back a little bit, but I boosted it with a new planting this year. I have nasturtiums, cat mint, chives, oregano, and basil. I've thrown a few seeds for dill and parsley around as well.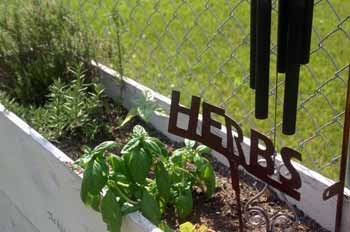 Of course, I have to have a sign telling me that these are herbs 🙂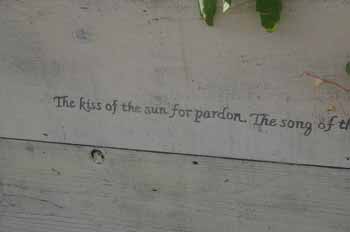 This is a saying that I love so much, I put it on the front of the planter:
A kiss of the sun for pardon.
The song of the birds for mirth.
One is nearer God's heart in the garden,
Than anywhere else on earth.
This little guy holding the wind chimes . . .
used to be a part of this rowdy little group, playing tug of war.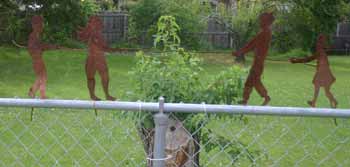 I also have some herbs planted among the other plants in the vegetable garden. This is the first year that I have planted my entire vegetable garden from seed. It has been a learning experience. I think, I should have started sooner. At this time of year, I normally would already be harvesting veggies. This year, I'm a little behind normal.
Hope you have enjoyed the tour of my little herb garden and the glance at the veggie garden.
Click the pics above for more 2nd Time Around and 3 or More Tuesday posts.

Today's Lagniappe: Heavenly Angel Food Cake
Quick, easy and no baking! (Unless you want to bake your own angel food cake).
1 Angel Food Cake
1 Large package of vanilla pudding
2 Cups sliced strawberries or whole raspberries
1 Small can crushed pineapple
12 Oz. Cool Whip
Slice cake horizontally. Mix Cool Whip, dried pudding mix and drained pineapple together with mixer on low speed. Fill between layers and ice cake with it. Top with strawberries or raspberries.
Tags: Southern Gardening
4 Responses to "Southern Garden"
Leave a Reply