Southern Morning Glory
Submitted by Christi
This is my Metamorphosis and Blue Monday with Between Naps on the Porch and Smiling Sally.
This lovely tray bird feeder was made for me by my wonderful step father. If you have read my blog you may have met him. His name is Chester Ward and he and my mother married after the death of my father. My husband, Joe B. and I are so happy to have him as a part of our lives.
The bird feeder was originally green. When the paint started to fade, I painted it this color of blue and planted it in a pot along with some morning glories. I love the way it turned out.
This is the view from my porch. I fill it with bird seeds and the beautiful birds love it. I love watching them from my porch.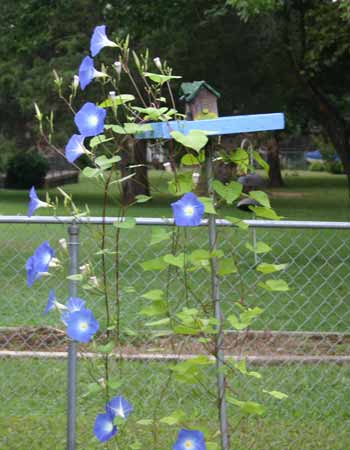 The pretty blue morning glories make me smile. I hope they make you smile, too!

Today's Lagniappe:  Basil Cheesecake
I'm still hung up on basil this week.  I love using herbs from my herb garden!
* 1 tablespoon butter
* 1/2 cup breadcrumbs
* 1/4 cup parmesan cheese, grated
* 2 1/2 cups basil, fresh
* 1/2 cup parsley
* 1/4 cup olive oil
* 1/2 teaspoon salt
* 1 clove garlic
* 1 lb ricotta cheese, room temperature
* 2 lbs cream cheese, room temperature
* 1/2 lb parmesan cheese, grated
* 5 eggs
* 1/2 cup pine nuts, lightly toasted
1. Preheat oven to 325F degrees.
2. Butter bottom and sides of 10″ spring form pan.
3. Mix bread crumbs and 1/4 cup Parmesan cheese.
4. Sprinkle mixture into pan, turning to coat completely.
5. Mix basil leaves, parsley, oil, salt and garlic in food processor until smooth paste forms, about 2 minutes, scraping sides occasionally.
6. Put ricotta cheese, cream cheese and Parmesan in a mixer bowl and mix until smooth about 2 minutes.
7. Mix in the eggs.
8. Remove about 1/3 of this mixture to a small bowl.
9. Into the original 2/3 cheese mixture, fold in the basil mixture until well blended.
10. Pour the basil mixture into the prepared pan and carefully spread an even layer of the cheese mixture on top.
11. Sprinkle with pine nuts.
12. Set pan on a baking sheet.
13. Bake 1 1/2 hours.
14. Turn oven off and cool cheesecake about 1 hour with the oven door slightly ajar.
15. Transfer to a rack and cool completely.
16. Serve at room temperature, or slightly warmed.
Tags: Southern Gardening
16 Responses to "Southern Morning Glory"
Leave a Reply