Southern Thunder Storm
Submitted by Christi
Ruby Tuesday visitors – made some revisions that didn't get updated properly last night. Sorry, I didn't have the link here last night. It has been corrected this morning (Tuesday).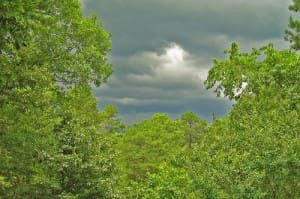 I've been out on the porch listening to another storm roll in. We had one earlier this afternoon and all last weekend and last week. One of the storms last week did quite a bit of damage farther south of here. Not a lot of damage other than some limbs down around here.
My garden is loving the storms. All that nitrogen from the lightening is making things grow like, well, weeds! When it dries out a bit in the morning, I'll get some pics of the garden to post.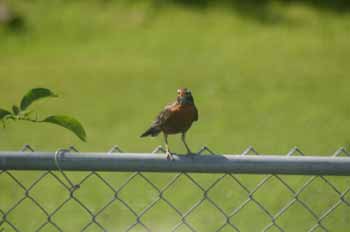 The robin babies have been back! You can see how young they are because the red breast is not really real red yet. They sit on the fence and the mother (or maybe father) bird gets some seed from the feeder and goes to the fence to feed them. I'll try to get some pics of that to post later this week. Those robin babies (or teenagers now maybe) are still so cute. They are very noisy about wanting food still. I'm so glad that they have come back around. We've only seen the mom (or dad) and two of the babies. Hopefully the third is off on its own and doing well.
This little red headed guy and his bride have been looking at the old robin's nest but haven't decided to move in yet.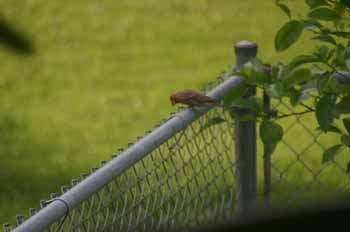 Hope all of you are safe from storms and having a great week!

Today's Lagniappe:  Caprese Salad (also known as tomato, mozzarella and basil salad)
Can you tell I love summer tomatoes?
4  tomatoes, each cut into 6 slices (about 1 1/2 pounds)
4  tomatoes, each cut into 6 slices (about 1 1/2 pounds)

1/2  pound  fresh mozzarella cheese, cut into 12 slices

1/4  teaspoon  kosher salt

1/4  teaspoon  freshly ground black pepper

1  tablespoon  extra virgin olive oil

1/2  cup  fresh basil leaves
Arrange 4 tomato slices and 2 mozzarella slices on each of 6 salad plates. Sprinkle evenly with salt and pepper; drizzle with oil. Top evenly with basil. Six servings.
Tags: Southern Porch
18 Responses to "Southern Thunder Storm"
Leave a Reply