One last entry from our trip to Vicksburg. While we were there, we were honored to stay with Richard and Susan Price. Susan was a classmate of my husbands at All Saints. Susan treated us to a lovely dinner while we were there of chicken kabobs, rice, home grown tomatoes with olive oil, basil and feta cheese and hot bread. This wonderful meal was completed with delicious strawberries over pound cake topped with whipped cream.
Here are the kabobs: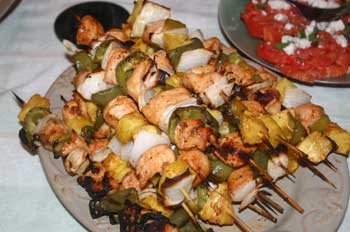 Chunks of chicken breasts that were sprinkeled with Grill Mates Hawaiian Seasoning and then threaded with pineapple, green bell peppers and onions then grilled. YUM!
Thanks Richard and Susan for a delicious and gracious meal at your home.
I am going to try a variation on this theme next week with pork tenderloin. I'll let you know how that turns out!
I also made it to the farmer's market this week and found these wild blackberries. What better to pair them with than Blue Bell Homemade Vanilla Ice cream? See how the bowl is frosty?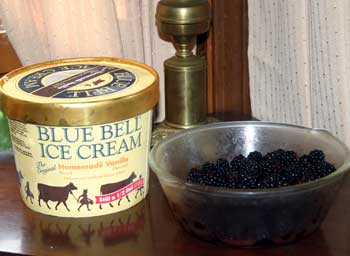 I added a little sugar and let them set and then poured them over the ice cream.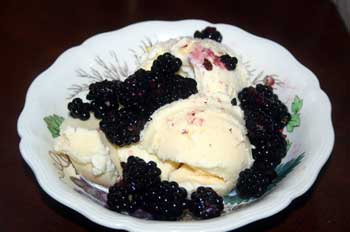 Now that is some yummy summer goodness!
for: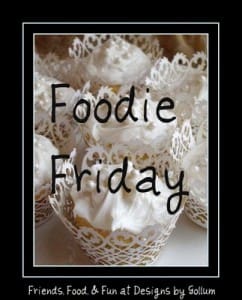 Today's Lagniappe (pronounced lan-yap – lagniappe=something extra) Blackberry Freezer Jam
The lady I bought the blackberries from said she was going to be picking some more. Gotta use 'em somehow!
<3-1/4 cups prepared fruit (buy about 2 qt. fully ripe blackberries)
1/4 cup fresh lemon juice
1 box Pectin
1 cup light corn syrup
4-1/2 cups sugar, measured into separate bowl
RINSE clean plastic containers and lids with boiling water. Dry thoroughly.
MASH blackberries thoroughly, one layer at a time. (Press half of pulp through a sieve to remove some seeds, if desired.) Measure exactly 3-1/4 cups prepared fruit into large bowl. Stir in lemon juice.
STIR pectin into prepared fruit in bowl. Let stand 30 minutes, stirring every 5 minutes. Stir in corn syrup. Gradually add sugar, stirring until well blended. Stir an additional 3 minutes or until sugar is completely dissolved and no longer grainy. (A few sugar crystals may remain.)
FILL all containers immediately to within 1/2 inch of tops. Wipe off top edges of containers; immediately cover with lids. Let stand at room temperature 24 hours. Jam is now ready to use. Store in refrigerator up to 3 weeks or freeze extra containers up to 1 year. Thaw in refrigerator before using.