It's an old fashioned Ice Cream Social with Kitchen Bouquet today!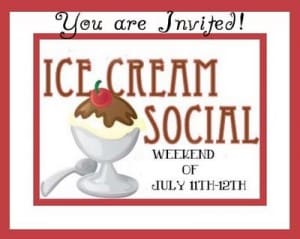 I've posted here previously about my favorite store bought ice cream. That would be Bluebell Strawberry and Homemade Vanilla.

My favorite homemade would be Butterfinger Ice Cream like my Mama used to make:
Homemade Butterfinger Ice Cream
4 eggs, beaten
1 1/2 cups peanut butter, melted
1 cup raw sugar
1 (14 ounce) can sweetened condensed milk
1 (12 ounce) can evaporated milk
3 to 4 regular sized Butterfinger candy bars, frozen
1/8 tsp real vanilla extract
1 pint heavy whipping cream or half-and-half (if desired, for richer ice cream)
1 gallon milk (whole or 2 percent)
Crush candy bars in a plastic bag (a rolling pin does a great job). Mix all ingredients except whole milk in a bowl. Reserve some crushed candy for ice cream topping. Pour the mixture into your ice cream maker and add whole milk to the container's fill line.
Place the container into your ice cream bucket, adding layers of ice and rock salt around it. Prepare according to your ice cream freezer's instructions.
Y'all have fun today and go see all the other great ice cream ideas!
Christi