Southern Pie
Submitted by Christi
If you have been following along, you know that mama left me one of her wonderful homemade pie crusts to fill. So, the next question is, what to fill it with? Do I make another lemon meringue pie like she did, or do I fill it with something else? Here are a couple of possibilities:
Coconut Cream Pie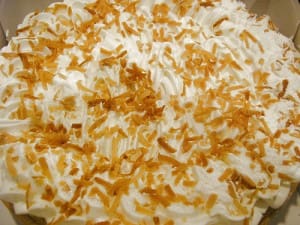 3 cups half-and-half
2 eggs
3/4 cup white sugar
1/2 cup all-purpose flour
1/4 teaspoon salt
1 cup flaked coconut, toasted
1 teaspoon vanilla extract
1 (9 inch) pie shell, baked
1 cup frozen whipped topping, thawed
In a medium saucepan, combine half-and-half, eggs, sugar, flour and salt. Bring to a boil over low heat, stirring constantly. Remove from heat, and stir in 3/4 cup of the coconut and the vanilla extract. Pour into pie shell and chill 2 to 4 hours, or until firm.

Top with whipped topping, and with remaining 1/4 cup of coconut.

Note: To toast coconut, spread it in an ungreased pan and bake in a 350 degree F (175 degrees C) oven for 5 to 7 minutes, or until golden brown, stirring occasionally.
Mmmmm! That sounds yummy. Maybe I'll do that.
How about a Pineapple Meringe Pie?
6 tablespoons cornstarch
1 cup sugar, divided
1/2 teaspoon salt
1 pie crust (10 inch), baked
2 cans crushed pineapple, (20 oz each)
4 eggs, separated
2 tablespoons lemon juice
Combine cornstarch, 1/2 cup sugar, salt and undrained pineapple in saucepan. Cook over low heat, stirring constantly, until clear and thick. Beat egg yolks; add a little of the hot mixture to yolks, return to saucepan with lemon juice. Cook 1 minute. Pour into pie shell.
Prepare meringue. Beat egg whites until frothy. Slowly add the remaining 1/2 cup sugar and continue beating until stiff peaks form. Spread meringue over the hot filling, spreading to crust. Bake at 400° for 10 minutes, or until nicely browned.
So many decisions  . . . What should I do?
Trust in the Lord with all your heart;
do not depend on your own understanding.
Seek his will in all you do,
and he will show you which path to take.
Proverbs 3:5-6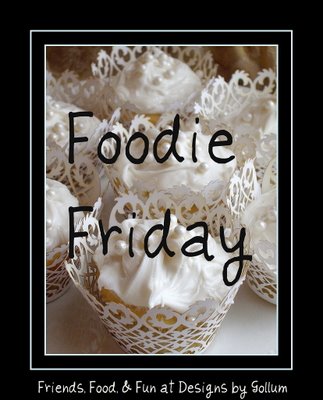 Join Designs by Gollum for some really great recipes today!
Today's Lagniappe:  Chocolate Pie
Maybe this is the way to go?
1 1/3 cups white sugar
3 egg yolks
1/4 cup unsweetened cocoa powder
1/4 cup all-purpose flour
3 tablespoons butter
1 (12 fluid ounce) can evaporated milk
3 egg whites
6 tablespoons white sugar
1/2 teaspoon cream of tartar
1 (9 inch) pie shell, baked
Combine 1 1/3 cups sugar, flour, and cocoa in a deep saucepan. Beat egg yolks with milk. Slowly add to sugar mixture. Cook on medium heat until thick while stirring with a flat bottomed wooden spoon. Remove mixture from heat, and stir in the butter or margarine until melted. Pour filling into baked pie crust.

To Make Meringue Topping: Whip egg whites in a glass bowl. Add remaining sugar one tablespoon at a time (you may not need all of the sugar) until peaks form. You may need to add cream of tartar to help add stiffness. Spread the meringue over the chocolate filling.

Bake at 325 degrees F (165 degrees C) until the peaks of the meringue are browned.
12 Responses to "Southern Pie"
Leave a Reply