Southern Pie
Submitted by Christi
While Mama was visiting, she blessed us by make a lemon meringue pie! YUM! It was so good. She even went one further by making an extra crust for me to fill later. She makes the best pie crust I've ever had.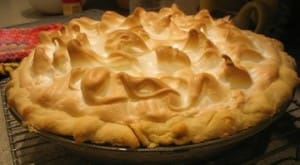 Here is how she makes her crust for a 9 inch pie:
2 cups flour, sifted
1 teaspoon salt
2/3 cup lard (or 2/3 cup + 2 tablespoons shortening)
1/4 cup water + more if needed, but add sparingly
Measure flour into mixing bow and mix salt through it. With pastry blender, cut in shortening until shortening particles are the size of giant peas.
Sprinkle with water a tbsp. at a time . . . mixing lightly with a fork until all the flour is moistened.
Gather dough together with fingers so it cleans the bowl.
Press firmly into a ball. Then, roll out and fit into a 9 inch pie plate, and flute the edges. Prick the pastry in the bottom of the pie pan thoroughly with a fork to prevent the crust from puffing up. Bake the crust at 474 degrees for 8 to 10 minutes.
Okay, now on to the lemon filling:
Mix in glass bowl:
1-1/2 cups sugar
1/3 cup cornstarch
1-1/2 cups water
Microwave this mixture  for 1-1/2 minutes. Remove from microwave. Pour half of mixture into 3 to 4 beaten egg yolks and then pour that mixture back into the sugar/water mixture and microwave for another 1-1/2 minutes or until thick.
Take the mixture out of the microwave and add:
3 tbsp. butter
1/4 cup fresh lemon juice
1 tbsp. grated lemon rind
Let this mixture sit until butter is melted, then stir together. Pour this mixture into the baked pie shell and top with meringue.
Meringue:
3 to 4 egg whites
1/4 teaspoon cream of tarter*
1/4 cup
* 1 teaspoon lemon juice may be substituted for cream of tarter for lemon meringue pie.
Beat egg whites with cream of tarter until frothy. Gradually beat in sugar, a little at a time. Continue beating until stiff and glossy. Do not underbeat. Beat until sugar is dissolved.
Pile meringue onto hot pie filling, being careful to seal the meringue onto edge of crust to prevent shrinking and weeping.
Swirl or pull up points for decorative top. Bake at 400 degrees F. for 8 to 10 minutes or until delicately browned.
This is the recipe mama always uses. It is out of the 1956 version of Betty Crocker's Picture Cookbook. She just changed the cooking to the microwave to make it easier. Isn't she smart? I got this cookbook for myself (same version and everything) from Ebay a few years ago so I could have the same recipes. I love having it.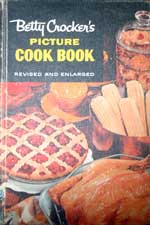 I always enjoy visits from my mother so much and am so thankful to have such a wonderful mama!
Honor thy father and thy mother:
that thy days may be long upon the land
which the LORD thy God giveth thee.
Exodus 20:12
Today's Lagniappe: Tips for a Perfect Meringue
Be sure you beat until all sugar is dissolved. You can test for this by tasting or rubbing a bit between your fingers to see if it is still "grainy."
Watch baking time carefully. The short baking time at a high temperature makes a tender meringue that cuts easily.
Cool gradually in a slightly warm place away from drafts.
To cut meringue pie neatly, dip sharp knife into water, either warm or cold; shake off any excess drops; cut. Repeat the process between cuts.
It's a four-for Tuesday! Join these great blogs for more recipes and great ideas.
Balancing Beauty and Bedlam's Tasty Tuesday
Blessed with Grace's Tempt My Tummy Tuesday
The Gypsy's Corner's Three or More Tuesday
2nd Time Around with A Picture is Worth A Thousand Words
21 Responses to "Southern Pie"
Leave a Reply