Southern Butternut Squash
Submitted by Christi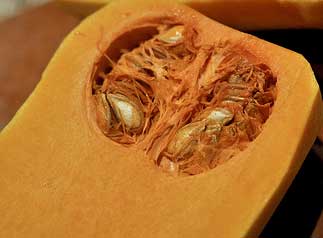 It is fair time again here in this neck of the woods. Time for funnel cakes, cotton candy, corn dogs and all those kinds of goodies. So, do you think I'm going to give you recipes for those? Absolutely not! You can go to your local county fair and indulge in all of those things and then come home and have something yummy and nutritious.
One of my favorites in the fall is butternut squash. One of my favorite butternut squash recipes is for soup. Okay, I'll admit, this isn't something I learned to enjoy in the South. The best butternut squash soup I ever had was at a country club near Toronto, Canada. I was working there for the week and the president of the company graciously invited me to dinner at "his club."
Okay, leave it to me to only remember the food! Anyway, it was wonderful. Try this recipe with a dollop of creme fresh  or sour cream on top. The version in Toronto had a topping. It might have been sour cream, I'm not really sure. I just know it was really good!
Butternut Squash Soup
6 cups (about 2 large squash) seeded 2-inch wide chunks butternut squash
Melted butter, for brushing
1 tablespoon kosher salt, plus 1 teaspoon
1 teaspoon freshly ground white pepper, plus 1/2 teaspoon
3 cups chicken or vegetable stock
4 tablespoons honey
1 teaspoon minced ginger
4 ounces heavy cream
1/4 teaspoon nutmeg
Preheat the oven to 400 degrees F.
Brush the flesh of the squash with a little butter and season with 1 tablespoon salt and 1 teaspoon freshly ground white pepper. On a sheet pan lay the squash flesh side up. Roast for about 30 to 35 minutes or until the flesh is nice and soft.
Scoop the flesh from the skin into a pot and add the stock, honey, and ginger. Bring to a simmer and puree using a stick blender. Stir in the heavy cream and return to a low simmer. Season with salt, pepper, and nutmeg. Top with sour cream or cream fresh.
Another way to serve butternut squash is with whipped like you would make mashed potatoes:
Whipped Butternut Squash
2 butternut squash, halved and seeded
1/2 cup margarine
1 cup light sour cream
salt and pepper to taste
Preheat oven to 350 degrees F (175 degrees C).

Place squash halves cut side down in a medium baking dish with enough water to cover. Cover, and bake 1 hour in the preheated oven, until tender.

Scoop squash from skin into a medium bowl, and mix with margarine and light sour cream. Whip until smooth. Season with salt and pepper.
One of the easiest ways to fix butternut squash is to just split it and bake it:
Baked Butternut Squash
2 small butternut squash
melted butter
cinnamon sugar
Brush a jelly-roll pan with butter and heat oven to 350°.
Carefully cut each squash in half lengthwise and scoop out seeds and soft fibers with a spoon. Brush the inside of each squash with butter; sprinkle with cinnamon sugar. Place squash halves, seasoned cut side down, in the prepared pan. Add about 1/2 cup water to the pan. Bake for 1 hour to 1 hour and 20 minutes, or until the squash is tender. Serve halves immediately or scoop the squash out into a serving dish and discard the skin.
Serves 4.
It's Nutritious!
One cup of butternut squash contains only 63 calories and almost 150% of your daily recommended amount of Vitamin A in the form of beta-carotene. This vitamin and powerful antioxidant can prevent lung cancer, atherosclerosis, diabetic heart disease, help alleviate or prevent inflammatory diseases such as arthritis, lower cholesterol levels, and much more. Folate is another important nutrient which can help prevent birth defects. It also has 32% of DV of Vitamin C, 25% of your DV of potassium, almost 6 grams of fiber, manganese, omega 3 fatty acids, several vitamin B's and copper.
Psalm 121:7-8
The LORD will keep you from all harm— he will watch over your life; the LORD will watch over your coming and going both now and forevermore.

Today's Lagniappe: Butternut Squash Info
Butternut squash can be stored longer than a lot of summer squashes. Choose a squash that is heavy and unblemished. Store in a cool dark place for around a month.
The skin of butternut squash is thick and waxy. The best way to peel a butternut squash is to remove the ends and then peel with a sharp vegetable peeler. Remove the seeds and then you are ready to use the squash in your favorite recipe!
It's a three-for Tuesday! Join these great blogs for more recipes and great ideas.
Balancing Beauty and Bedlam's Tasty Tuesday
Blessed with Grace's Tempt My Tummy Tuesday
The Gypsy's Corner's Three or More Tuesday
8 Responses to "Southern Butternut Squash"
Leave a Reply