Southern Change
Submitted by Christi
It's time for Met Monday with Between Naps on the Porch, and I am so excited about today's metamorphosis!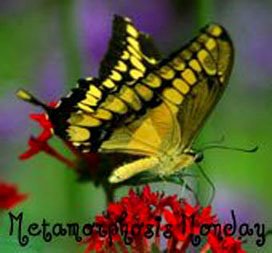 Notice anything different around here? That's right! A Southern Life has a new look. I've kept the colors and header because I really like them. Here is how the site used to look: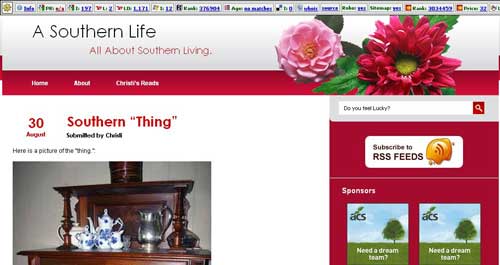 Now, there are 3 columns, and, things have moved around. The search bar is on the top right above my Facebook and Twitter badges.  I like how the blue on the Facebook badge looks against the red. I think it is pretty enough to add it to Blue Monday at Smiling Sally's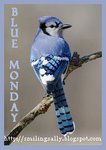 The navigation has changed. There is also a background framing the 3 columns. There are a lot of internal changes that I won't bore you with, but, I'm very happy with the new look.
I have been wanting to make some changes for a while now and I am so glad to have the holiday weekend to get to jump right into it. Oh, I have also added the featured picture on the top right. It changes every time you reload. There are 6 pictures that rotate in that position. I'm thinking about making it few but haven't decided yet.
There are some other additions to A Southern Life that will be coming soon that I think you will really like (I hope so!).
I hope you like the changes so far! What do you think? Some things have not changed, like the lagniappe. It's still here. Enjoy! Hope everyone is having a great Labor Day!
Today's Lagniappe:  Tomato and Pesto Bruschetta
I'm still harvesting basil from the garden, so, I thought I'd made some more pesto and use it for some easy bruschetta.
1 loaf, crusty Italian baguette
olive oil
1 recipe of pesto
chopped tomato (best if you get it right out of your own garden!)
fontina cheese (or cheese of your choice)
Slice the baguette into 1/2 inch slices.  Brush the sliced bread with olive oil and bake them in a 375 degree oven until crispy and light brown. Remove the bread slices from the oven and turn the oven up to broil.
Spread about a tablespoon of pesto on each slice of bread and top with tomatoes and cheese.
Place the bread slices back in the oven and broil until cheese melts.
19 Responses to "Southern Change"
Leave a Reply