Southern Chili Night
Submitted by Christi
It's Tablescape Thursday with Susan at Between Naps on the Porch!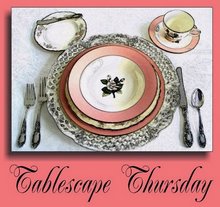 It has been cool and rainy and dreary here this week. Days like this make me want to stay in and cook and just be all warm and cozy. That is where this tablescape came from. I fixed a pot of chili and set the coffee table in the living room. We will just stay in and have our chili and watch a little tv and read and be comfortable.
What a lovely way to spend the evening!
Today's Lagniappe: Norvelle's Jail House Chili
I've posted this before, but it is worth posting again. Norvelle was my husband's mother's housekeeper who was like a second mom to him. She made this wonderful chili. This recipe is originally from A Cooks Tour of Shreveport from the Junior League of Shreveport, Louisiana, 1964. Norvelle's version is quite a bit spicier than the original. The recipe here has the measurements that she used. She made her changes in pencil in the cookbook. Read more about Norvelle here.
3 lb. diced lean beef or hamburger
1/4 cup liquid shortening (I use a couple of tablespoons – Christi)
1 quart water
8 tablespoons chili powder
5 teaspoons salt
8 cloves finely chopped garlic
2 teaspoons ground cumin
2 teaspoons marjoram
1 teaspoon red pepper (can use 1/2)
1 1/2 tablespoons sugar
5 tablespoons paprika
To thicken:
3 tablespoons flour
6 tablespoons corn meal
1 cup water
Heat oil in a large pot, add meat and sear over high heat, stir constantly until meat is gray but not brown. Add water and cover, cooking over low fire for 1 1/2 to 2 hours. Add remaining ingredients, except thickening, and cook at a bubbling simmer for 30 minutes. Mix together thickening ingredients and add to chili. Cook about 5 more minutes and stir to prevent sticking. More water may be added for desired consistency. If meat is very fat, skim off fat before adding thickening. This is rather hot chili. For milder flavor, cut the chili powder and red pepper in half but add more paprika for color.
Tags: Southern Table, Southern Tablescape
23 Responses to "Southern Chili Night"
Leave a Reply