Yikes! As I write this it is 98 with a heat index of 105! That is actually not as hot as it was supposed to be today. Of course, the day is not over.
When it is this hot, turning on the oven is just not something I want to do. Actually, cooking with any kind of heat is to be avoided if you ask me. I really would prefer not to do laundry or start the dishwasher either. So, I guess, it is really just an excuse to be lazy! LOL!
Okay, so maybe we'll order take-out but I can still serve it on pretty dishes, can't I?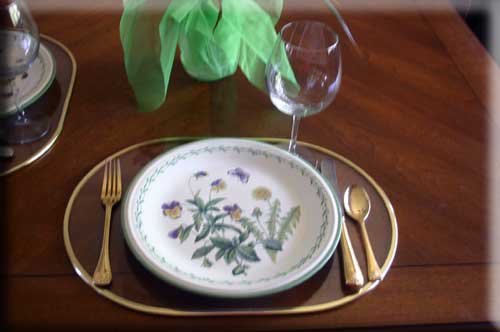 My Mikasa Studio Nova Garden Bloom plates on a clear placemat that is rimmed in gold, with my gold flatware and, of course, a wine glass.
That is a nice place to serve some take-out!
I still have some pink flowers leftover from last week so I just dressed up the table a bit by adding them along.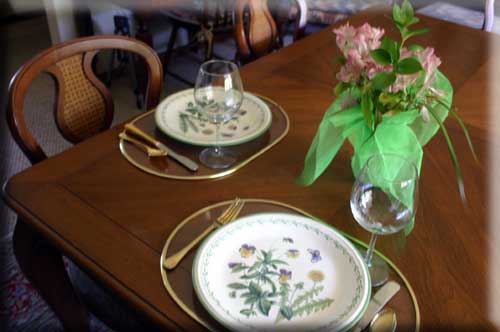 One of the things I like about the placemats is that I don't have to launder them! I can just wipe them down and they are ready to go again.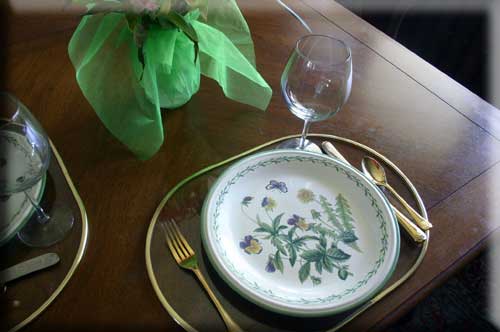 A great way to beat the heat – don't cook and eat inside!
What is your favorite way to beat the heat?
Today's Lagniappe: Italian Spinach and Mushroom Salad
From Wishbone.
1  package (10 oz.) fresh spinach leaves, rinsed and patted dry
1  package (8 oz.) sliced mushrooms
1  can (19 oz.) chick peas or garbanzos, rinsed and drained
1/3  cup  bacon bits
Seasoned croutons
1/2  cup  Wish-Bone® Italian Dressing
1. Combine all ingredients except Dressing in large salad bowl. Drizzle with Wish-Bone® Italian Dressing; toss gently. Serve, if desired, with additional Dressing.
TIP: Make it a main dish salad…just Flash Marinate! Brush meat or poultry repeatedly during grilling or broiling with Wish-Bone® Italian Dressing for that marinated taste; then slice and add to salad.
Go check out some wonderful, inspirational table ideas at