Southern Thanksgiving Preview
Submitted by Christi
Its' a Thanksgiving preview for Tablescape Thursday!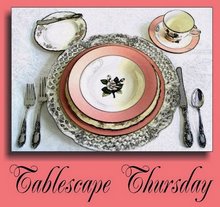 So, I got everthing out and went for a preview of the Thanksgiving table. Why do a preview? This is a good chance to make sure you have everything. All the butter knives all the salad plates, napkins, candles. I did find a couple of things that I need to check on. I will need more candles and I need to do a little more ironing on the napkins. I also went ahead and got out serving pieces to make sure they are all clean and ready to go.
I can't wait for all the family to arrive. I love making things look nice for them. Thanksgiving is such a wonderful holiday.
As I was running errands today, I ran into so many friends who are struggling during this recession. I am so grateful for friends and my prayer is that we all have a wonderful Thanksgiving and can have just a little bit of time to forget our troubles and be thankful for our blessings, however smal they may seem. I'll have to say, my heart is breaking over so many people who are just really experiencing tough times. If it is you that is experiencing a tough time, please know that I care and am praying for our nation and for everyone who is facing trying times.
Have a great Tablescape Thursday and check out everyone who has made something beautiful today!
Today's Lagniappe: Thanksgiving Potatoes
This is a recipe from one of my favorite cookbooks The Silver Palate. I have made this many times and it is always a hit and tastes delicious!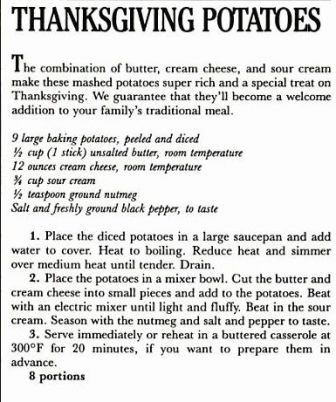 Tags: Southern Holiday, Southern Table, Southern Thanksgiving
30 Responses to "Southern Thanksgiving Preview"
Leave a Reply