Southern Home Tour
Submitted by Christi
It is so much fun to see all the Christmas decorations. In the store windows, on the street, and in the homes of people we love as well as our own homes. When the days are short, it certainly brightens up not only the landscape, but our moods as well (at least mine)!
It is the time of year that we reflect on our blessings. Last year, on December 17th, I published my first post on this blog. I'm very thankful for the opportunity to get to know so many of you. Thank you so much for visiting with me. Next week, to celebrate my 1 year blogversary, I've got some special things planned so I hope you will join me!
Now, on with the tour!
Here is a little of what is going on this Christmas in my home and the homes of some of my family.
First let's stop by my mom's house. Mama lives in Ponca City, Oklahoma.
This is the tree before it was decorated. Mama is sending pics of the decorated tree to post next week. I was accused of having had a Christmas cookie cocktail before taking this pic (ha, ha). Actually, Mama took this pic. It kind of reminds me of when I was kid and would kind of squint my eyes when I looked at the Christmas tree.
Okay, we'll come back to Mama's next week.
Now, let's head farther out west to my sister, Tammy's house in Brighton, Colorado.
I'm trying to get Tammy to send me more pics too. She has a ten foot live tree in her living room. Would love to show you a pic of that. I'll keep after her.
Now, we'll go back South to my sister Linda's house. Linda's daughter, my niece, Taylor, sent me her pics. I need to send her to fetch pics from the rest of my family!
Now, let's head East, to Virginia to visit my nephew. He took pictures with his cell phone.
And, then back to my house in Arkansas. You may have seen some of these recently 🙂
This table pic is from last year before I learned from Susan at Between Naps on the Porch to take better pictures (and more of them).
And, when I step outside:
Thank you for stopping by. And to each and every one of you – A very merry and blessed Christmas! Y'all come back and be sure to visit my new Facebook page http://www.facebook.com/a.southern.life!
To see lots of beautiful home tours and great recipes and more fun, visit: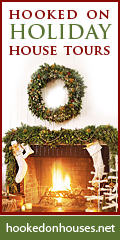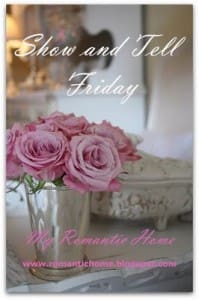 Today's Lagniappe: Betty's Fruitcake
My grandpa's wife, Betty makes this fabulous fruitcake soaked in cream sherry.
1 lb. butter
3 cups sugar
6 eggs, separated
5 cups flour
1 teaspoon baking soda
pinch of salt
3 oz. lemon extract
3 tablespoons sherry
8 oz. candied cherries
8 oz. candied pineapple
1 lb. white raisins
1 quart pecans
Sift flour, salt and soda together. Add fruit and pecans. Mix well. Cream butter and sugar, add egg yolks, lemon extract and sherry. Add to dry ingredients. Fold in stiffly beaten egg whites. Pour in a tube pan (grease bottom only) and bake at 200 degrees for 4 hours.
Cool cake.
Soak cheesecloth in sherry and wrap around cake.
Tags: Southern Christmas
54 Responses to "Southern Home Tour"
Leave a Reply