Southern Season
Submitted by Christi
Okay, we have had unbelievable snow here. For those of you East of Arkansas, it is coming your way! Okay, so it is time to bring out the Spring inside. I tend to go for live houseplants but I love these pink silks: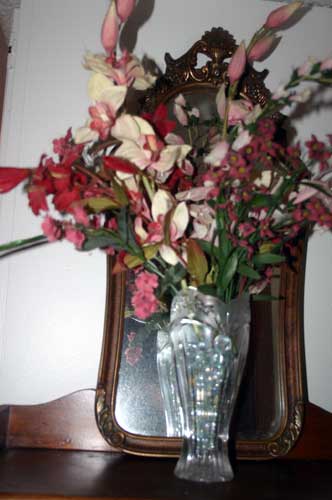 The vase was a gift from wonderful friend in Dallas, Julie Jones.
Looking around the house today (kind of snowed in here) to find other signs of Spring that I can bring out.
Be watching this week to see all about DONNADOTS. They are fabulous and you will love them. Stay tuned Wednesday night for more on that.
Need some pink inspiration today? Check out Beverly at
Today's Lagniappe:  Snow Ice Cream
Because we have an abundance today, this is perfect.
Put a clean bowl outside to collect snow. When you have a large bowl of snow, bring it inside and add sugar, cream (or milk, or half and half) and vanilla to the snow to your desired taste and consistency. I've seen some great ideas to add – flavored kook-aid, chocolate syrup. Hmmmm, the possibilities are endless.
5 Responses to "Southern Season"
Leave a Reply