Southern Table
Submitted by Christi
It's Tablescape Thursday with Susan at Between Naps on the Porch.
Click on the pic to see more tablescapes.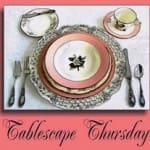 Yesterday, I posted pics of my beautiful robins and their eggs.
The color of those eggs are what make me love this china so much.
The pattern is called Sterling Rose by Royal Tettau.
You may remember that this is the china that I used for my placesetting that I entered in the County Fair.
I may not have won the best of show ribbon at the fair, but this china certainly wins a best of show in my heart!
Today's Lagniappe:  Shrimp Casserole
I love shrimp just about any way you cook it. Here is one way:
8 oz. spinach egg noodles
3 oz. cream cheese, cubed
Cook noodles, and drain. Place in 13 x 9 casserole.  Place cream cheese cubes on hot noodles.
1 1/2 lbs. peeled shrimp
1/2 cup butter
Saute' shrimp in butter, and place all over noodles and cheese.
1 can cream of mushroom soup
1 cup sour cream
1/2 cup milk
1/2 cup mayonnaise
1/2 tsp. prepared mustard
1 tbl. chopped chives
Mix all of this, and pour over shrimp.
Sprinkle 3/4 cup grated cheese (your choice) on top. Bake at 325 degrees until cheese melts and all is bubbly.
Tags: Southern Table
30 Responses to "Southern Table"
Leave a Reply