Southern PINK Lamp
Submitted by Christi
I have had this lamp forever.
I love this lamp but I haven't had it out in a while. I'm looking for a place to put it.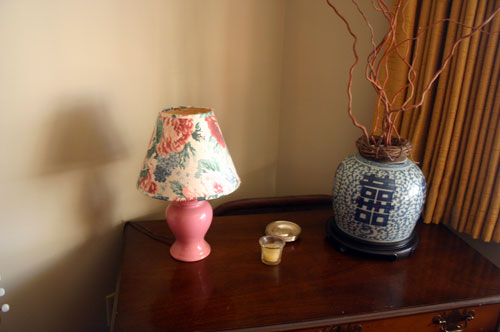 Doesn't seem to go here. I really think I may need to find a place in my office for it. I really don't like overhead lights in there. Just too harsh. Hmmmm, going to have to think about this.
Today's Lagniappe: Breakfast Casserole
Perfect for a weekend morning.
* 3 eggs
* 3 tablespoons milk
* 2 slices of bread, cut into 1-inch cubes
* 1 green onion, thinly sliced
* 1/3 cup cheese (your preference), shredded
* 1/3 cup chopped ham
1. Preheat oven to 350
2. Spray your baking dish with cooking spray
3. Combine all ingredients
4. Pour into baking dish
5. Bake 20 – 25 minutes or until egg mixture is set
Tags: Pink Saturday
5 Responses to "Southern PINK Lamp"
Leave a Reply