Happy 2nd Birthday to
Lets have some cake with pink roses.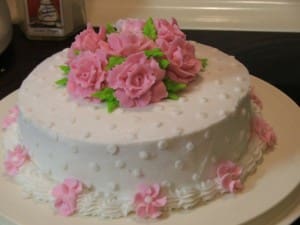 Some pink flowers.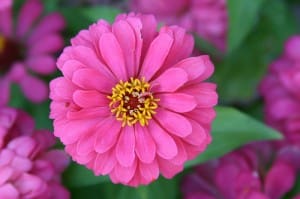 and some pink balloons.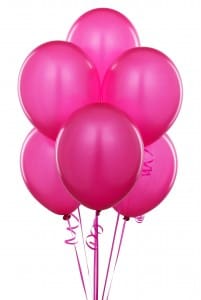 Wishing you another wonderful Pink Saturday Year, Beverly!
Today's Lagniappe: Coconut Cake
I had a lovely piece of coconut cake on my birthday this past Thursday. It was delicious and perfect for a birthday celebration!
* 3 cups sifted cake flour (sift before measuring)
* 2 teaspoons baking powder
* 1/4 teaspoon salt
* 1 cup butter, room temperature
* 1 pound powdered sugar
* 4 egg yolks, well beaten
* 1 cup milk
* 1 teaspoon vanilla
* 1 cup shredded coconut
* 4 egg whites, well beaten
* .
* Frosting:
* 1 cup sugar
* 1/2 cup light corn syrup
* 3 tablespoons water
* 3 egg whites
* 1/4 teaspoon cream of tartar
* 1/4 teaspoon salt
* 1 1/2 teaspoons vanilla
* 1 cups grated coconut
Preparation:
Cake:
Measure the sifted cake flour into a bowl. Add baking powder and salt. Sift these ingredients 3 times. In a mixing bowl, cream butter thoroughly; add sugar gradually. Continue creaming until light and fluffy. Add the beaten egg yolks and beat well. Add flour mixture alternately with the milk, beating well after each addition. Stir in coconut and vanilla. Fold in egg whites gently. Bake in greased 8-inch pans at 350° for about 30 minutes, or until a wooden pick or cake tester inserted in center comes out clean. Makes three 8-inch layers.
Frosting:
Combine sugar, corn syrup, water, egg whites, cream of tartar and salt in top of double boiler. Cook over rapidly boiling water, beating with electric hand-held mixer until mixture stands in peaks. Remove from heat; add vanilla. Continue beating until frosting is firm enough to hold when spread on cake. Frost cake sprinkle immediately with grated coconut, pressing coconut onto sides of cake with hands.