I've posted so many times about Southern Shrimp.  I can't begin to tell you how sad I am about the oil spill in the Gulf. I pray for the people who make their livelihood from the Gulf region that this will be resolved soon. I don't know that much about the Gulf oil platforms. I have friends who are very knowledgeable. I hope they will weigh in on this issue.
As for me, I still love that Gulf seafood!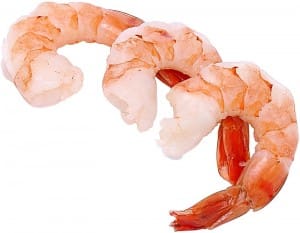 I just ordered some Gulf shrimp to support the wonderful industry. There is just so much yummy stuff you can do with them. They do have that taste of the ocean about them. What are you doing with shrimp?
And, what are you doing for:
Today's Lagniappe:  Shrimp with Lemon and Garlic
A lovely way to enjoy that Gulf Shrimp while you can!
* 2/3 cup olive oil
* 1/2 cup lemon juice
* 1/2 teaspoon salt
* 1/8 teaspoon pepper
* 2 pounds fresh shrimp, peeled, deveined
* 3 tablespoons butter
* 1 clove garlic, finely minced
* 1/2 to 1 cup blanched slivered almonds
* dash or two of hot pepper sauce
* 1/2 cup dry vermouth, or use chicken broth and an additional tablespoon of lemon juice
* 1 tablespoon finely chopped green onion tops
Preparation:
In a glass bowl or other nonreactive dish, combine olive oil, lemon juice, salt, and pepper. Add shrimp and marinate for 1 to 2 hours. Melt butter in large skillet; add minced garlic and shrimp. Reserve marinade. Stir-fry shrimp over medium heat until pink. Discard garlic; remove shrimp to a hot platter. Sauté slivered almonds in butter until brown; add marinade, hot pepper sauce and vermouth. When well blended, pour sauce over shrimp. Sprinkle with finely chopped green onions before serving. Serve with hot cooked rice or pilaf.
Serves 6 to 8.