Surviving the Winter!
Submitted by Christi
If you have been around here awhile you may remember my past attempts at trying to keep my beautiful summer ferns alive inside through the winter.
NOT a pretty site! Well, I have tried it again this year and, guess what? So far, I'm successful!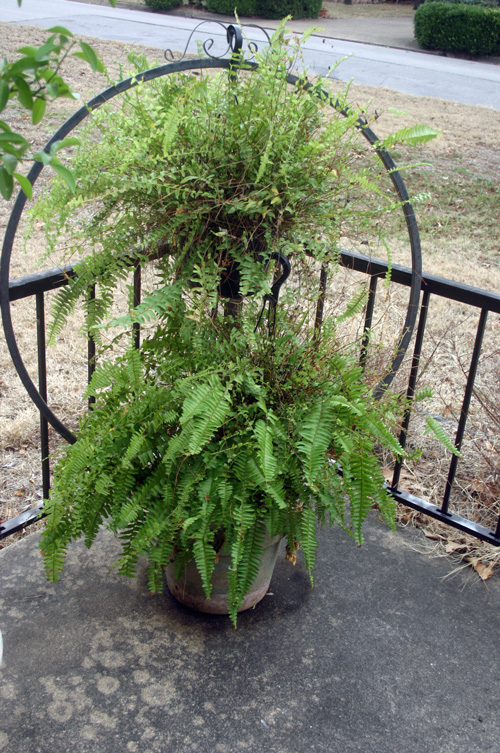 If you are really successful keeping ferns through the winter, you may wonder what the big deal is, but this is really big for me. I have tried for years and ALWAYS end up with dead ferns. I am pretty good with house plants and have many that have been around for years. And, I am usually successful and keeping other plants inside for the winter, but never the ferns.
As you can see from the picture above, they are outside today. That is because it is 70 degrees and humid and we are supposed to have storms later. This has been my trick. Even though it gets cold here and we have had a few snowfalls, we also have some mild days. When we have the mild days, I take the ferns outside and water them really well and let them enjoy being outdoors.
When they are inside, I have a spray bottle of water that I mist them with every few days. Woo Hoo!
Here is my lemon tree that has done beautifully inside for many years. Hasn't given me one lemon yet, but it has pretty citrusy smelling leaves.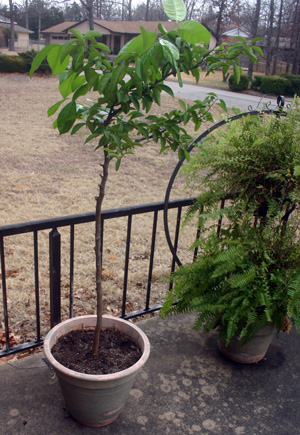 I guess that is my next plant challenge – getting that lemon tree to give me some lemons! Considering the price of lemons these days that would be another big woo hoo moment.
Hope your before and afters make you feel as great as this one did me!
Today's Lagniappe: Shrimp Boil
It's almost time for Mardi Gras! This is a great dish to enjoy during Carnival season.
1 gallon water
1 package of Zatarain's crab and shrimp boil
2 lemons, quartered
5 tablespoons sea salt
1 small onion cut in large pieces
1 celery stalks cut in large pieces
3 garlic cloves, minced
2 to 3 tablespoons hot sauce such as Tabasco or Chrystal
1/2 lb. andouille sausage cut in bite size pieces
2 ears of corn, cut in half
3/4 to 1 lb. small red potatoes
Put water, crab boil, lemons & salt in a very large pot and bring to a boil. (Note: you may want to turn on your vent fan – that crab boil is strong stuff! Also, if you have a large basket that will fit in the pot that is helpful as well). Add onions, celery and red potatoes. Bring back to a boil and then cover and lower the heat. Simmer for around 15 minutes or until the potatoes start to get tender. Add the andouille sausage and the corn and cook for about 5 to 8 minutes more or until the corn starts to get tender. Add the shrimp and cook for 4 to 5 minutes or until they turn pink and are done.
Carefully drain into a colander or remove the wire basket from the water. Place everything on a large platter. Serve with cocktail sauce, remaulade sauce, and hot French bread.
Makes 4 servings.
3 Responses to "Surviving the Winter!"
Leave a Reply