Southern Words from Donna
Submitted by Christi
You may remember my friend Donna Butler Douglas that I introduced you to last year. Remember her? She is the creator of the fabulous DonnaDots!
Here are some DonnaDots to help you remember: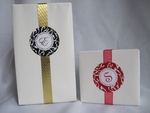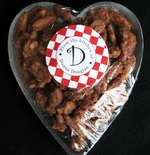 Yes, that Donna. She is so very talented and as it turns out, very organized as well. Donna has graciously written down some of her favorite organization tips for me to share with you. I will be doing that soon but today I wanted to share something else about Donna.
Donna lost her wonderful friend, her faithful dog Beau this past weekend. Beau was 13 years old and his health had begun to fail. I know many of you are pet owners and have known the heartbreak of losing a beloved pet. Donna is a very talented composer as well as a graphic artist. She writes beautiful anthems that can literally bring tears to your eyes.
Donna shared one her anthems in this very special tribute to her beloved dog, Beau. Get a tissue before you watch this beautiful video.
Love you, Donna!
Today's Lagniappe: Easy Quesadillas
Love things that are yummy and easy!
3/4 cup taco meat
4 (8-inch) flour tortillas
1 1/4 cups (5 ounces) shredded Mexican cheese blend, divided
1/2 cup salsa, divided
Sour cream
-Spread taco meat evenly over 2 tortillas. Sprinkle evenly with 3/4 cup cheese, and drizzle with 1/4 cup salsa. Top with remaining tortillas.
-Microwave 1 quesadilla, covered with a paper towel, on a microwave-safe plate at HIGH 1 to 1 1/2 minutes. Repeat procedure with remaining quesadilla.
-Cut each into 8 wedges; serve with remaining 1/4 cup salsa, sour cream, and remaining 1/2 cup cheese.
One Response to "Southern Words from Donna"
Leave a Reply