Fall Dinner Party in New Orleans
Submitted by Christi
Since moving to New Orleans, I have really enjoyed making new friends and renewing acquaintances. I also enjoy having a roomy dining room that makes entertaining so much easier. Recently, we had some friends over for a casual, early fall dinner.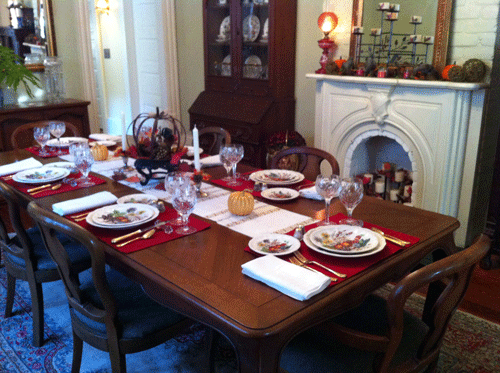 I was busy getting things ready and didn't get enough pictures of the table. I've gotten out the habit, but promise to do better. 🙂 Anyway, it was a fun evening.
The china pattern is "Reynolds" by Spode. One of my favorites for late summer, early fall entertaining.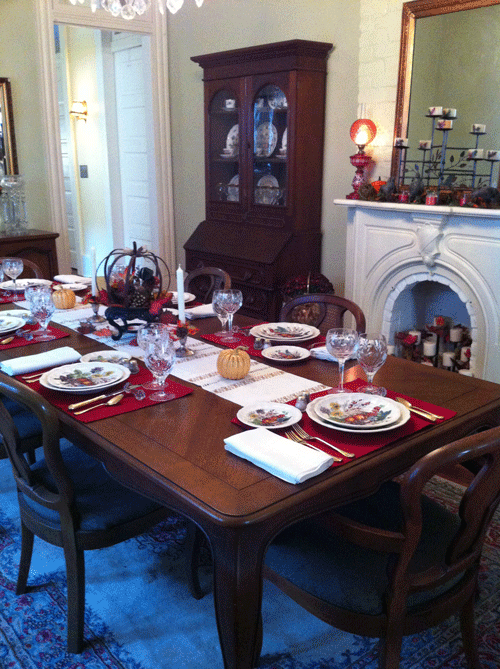 Happy Fall Y'all! Hope it is off to a great start wherever you are.
For dessert, we had gingerbread with warm caramelized pears and spiced bourbon custard (topped with whipped cream). I came up with the spiced bourbon custard recipe by working with a standard custard recipe. Gotta say, it was pretty tasty. Here is the recipe:
Today's Lagniappe: Spiced Bourbon Custard
Mix in a saucepan:
1/2 cup sugar
1/2 tsp. salt
1/3 cup flour
Stir in:
Cook over medium heat, stirring until it boils. Boil 1 minute. Remove from heat. Stir about half of this mixture into 4 beaten egg yolks.
Blend into hot mixture in saucepan. Bring just to a boiling point. Cool and blend in 1 tsp. vanilla, 3 tablespoons bourbon and 1 tsp. pumpkin pie mix.
Cover with plastic wrap, pushing down the plastic wrap to touch the custard and refrigerate until ready to use.
I layered this with gingerbread and pears that had been chopped and then cooked down with sugar and cinnamon and then topped it all with whipped cream.
Leave a Reply