Caroling in the Park
Submitted by Christi
Beautiful music abound here in New Orleans. You may be familiar with the beautiful caroling that takes place at Jackson Square.
What you may not know about is the smaller caroling events that take place in neighborhood parks around the city. We had one of these in our neighborhood recently at Palmer Park.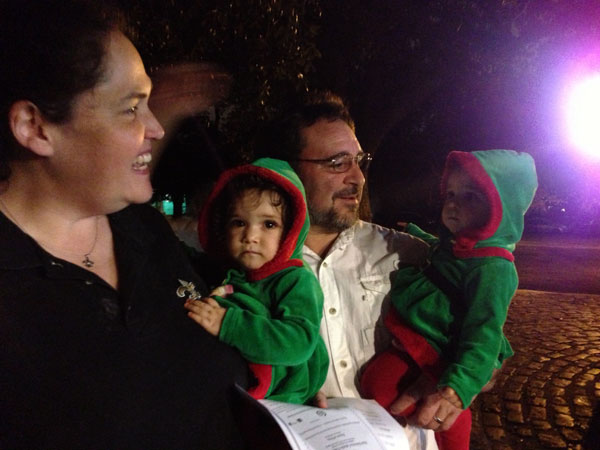 Our crowd was not quite this big and it had rained a bit just before we started so that made for a smaller crowd as well but still it was a lovely evening. It was also an opportunity to donate food to the 2nd Harvest Food Bank. There were vendors set up with hot chocolate, eggnog, crepes and more with proceeds benefiting 2nd Harvest as well.
It was fun to see the children enjoying the singing and playing in the park and I think the adults enjoyed it just as much. I know I did. The singing was led by the choir of the Mater Delorosa Catholic Church.
Here are some pics:
After the caroling, we came home and enjoyed some hot and hearty beef stew. What a lovely way to spend an evening. New Orleans has so many wonderful neighborhoods to enjoy. Don't miss them!
Today's Lagniappe: Beef Stew
Lightly dredge 2 lb. of stew meat in flour. Brown the meat in a little oil in the bottom of a dutch oven. When the meat is brown, add a couple of potatoes and 3 or 4 carrots that have been cut into bite size chunks 1 can of beef broth, 1 lg. can of tomato sauce, 2 cups red wine, a few tablespoons of Worcestershire, garlic powder, salt and pepper (to taste).  Bring to a boil and then simmer for a couple of hours. Serve with cornbread.
Leave a Reply