Cabbage…lots of it!
Submitted by Cindy
Every fall I plant broccoli.  It does quite well in pots on my patio – container gardening is a trade off in the city for a nicely landscaped yard.  In New Orleans transplants are generally available in early October, with harvest right around Thanksgiving.  I was a bit surprised to find transplants at a big box garden center in early September.  I decided to gamble on an early planting, perhaps getting a long season of side shoots if they could make it through our hot weather.
The transplants thrived, with lush, healthy green leaves.  In fact, they seemed a lot fuller than usual.  I was puzzled that no heads had emerged by mid November.  Had the hot weather caused some problems?  The leaves grew smaller and tighter, then one day I felt something hard in the middle.  It then dawned on me…I wasn't growing broccoli but cabbage!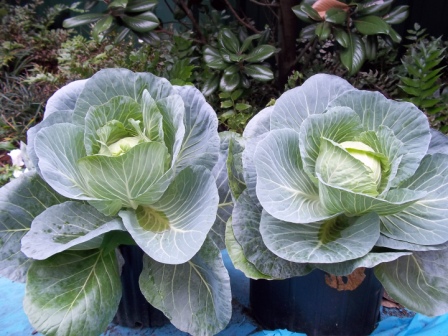 I have nine heads of cabbage just in time for the New Year.  Luckily they store well, to give me a chance to find some interesting and different ways to cook this humble vegetable.  In the meantime, here is a tried and true favorite.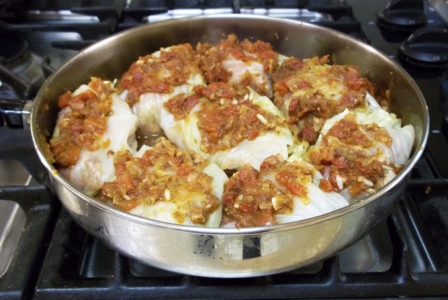 Georgie's Cabbage Rolls 
8 large cabbage leaves
1-1/2 cups chopped onion
1 tablespoon butter
1 14-1/2 ounces can Italian stewed tomatoes
4 garlic cloves, minced
2 tablespoons brown sugar
1-1/2 teaspoons salt
1 cup cooked rice
2 tablespoons Worcestershire sauce
1/4 teaspoon pepper
1 teaspoon thyme
1 pound lean ground beef
Cook cabbage in boiling water for 5 minutes or until tender; drain.
In a large saucepan, saute 1 cup onion in butter until tender. Add the tomatoes, garlic, brown sugar and seasonings. Simmer for 15 minutes, stirring occasionally.
In a large bowl, combine the rice, remaining onion, beef, Worcestershire sauce, and ¼ cup tomato mixture.  Mix well.
Remove thick vein from cabbage leaves for easier rolling. Place about 1/2 cup meat mixture on each leaf; fold in sides. Starting at an unfolded edge, roll up leaf to completely enclose filling. Place seam side down in a skillet. Top with the sauce.
Cover and cook over medium-low heat for approximately 1 hour.
     Yield: 4 servings
Leave a Reply