Rock 'n' Roll Marathon
Submitted by Cindy
On a recent Sunday morning 16,000 runners from all 50 states and 23 foreign countries took to the New Orleans streets.  My running days are over, but I can't resist going to cheer them on, and sympathize with their pain.  It was a perfect, cool winter day, with the sun peeking over the oak trees as the runners filled both sides of St. Charles Avenue.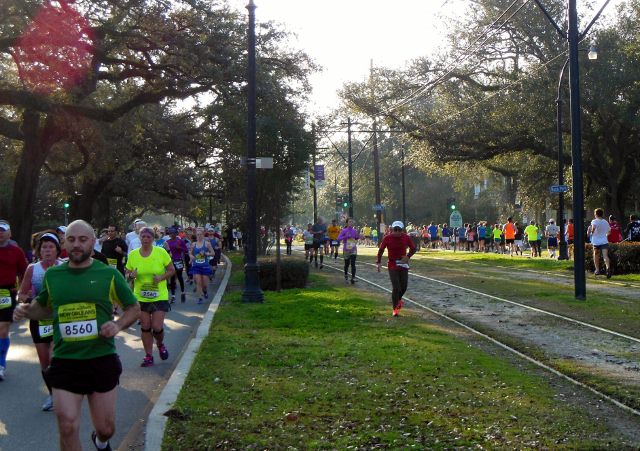 In New Orleans we can turn any event into a party!    A jazz band from Tulane University started up at 7 AM.  Cheerleaders from a local high school sang their encouragement, waving big records as part of their routine.  Neighbors lined the route just as for a parade, though most were drinking coffee rather than the typical beer.  We brought our coonhound to cheer them on, and she provided a welcome distraction to the monotony of 26 miles.
Here are some highlights.
Our neighborhood was early in the race (mile 4), but the real drama comes towards the end.  A man from Louisiana beat out the heavily favored African runners.  A friend's son placed 3rd in his first marathon attempt.  Congrats Trevor!   Another friend also completed his first marathon, finding time to train despite having a toddler and a new born.  Go Michael!
Just another Sunday in New Orleans.
Click to enlarge and for captions.
Hope the weather is beautiful where you are and you can get out and enjoy the outdoors.
Leave a Reply