How to Boil Crawfish
Submitted by Cindy
Crawfish boils are a rite of spring in New Orleans.  They combine two of our favorite activities – eating good food and visiting with friends.  We recently spent a picture perfect Saturday afternoon in a beautiful setting eating to our heart's content.  Here's the star of the show.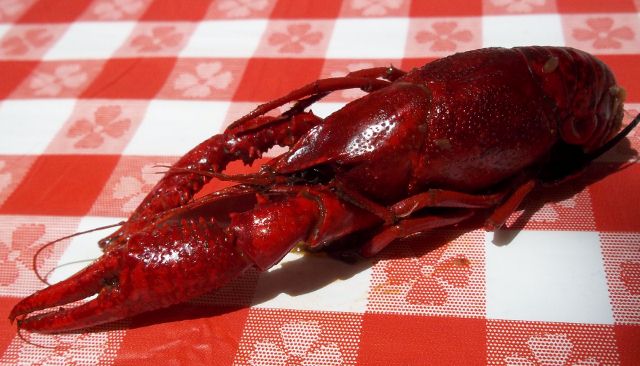 We are lucky here to have boiled crawfish readily available.  You can buy a few pounds, still hot from the pot, at a lot of groceries this time of year.  There are specialty caterers who will bring their equipment on site to cook for larger parties.  But it's a lot more fun to cook them yourself.
My friend Chris, a master crawfish boiler when he's not behind his desk at an investment firm, shared his cooking secrets with me.  It's as much an art as a science, and the results are delicious!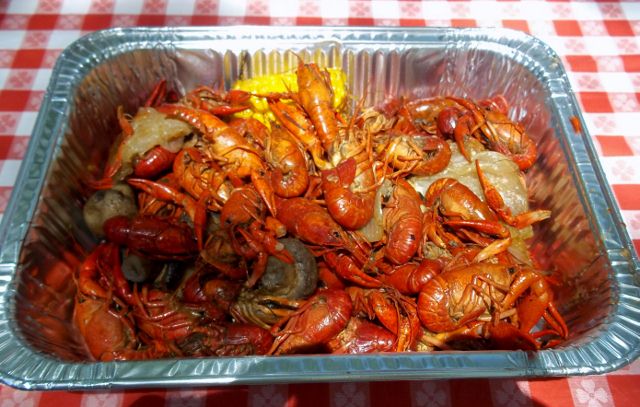 Here's what you will need:
Crawfish, between 3 and 5 pounds per person.  They are sold live, by the sack, which contains theoretically 40 but more like 33-37 pounds.  Four sacks were cooked for our party.
Crab Boil.  The standard here is Zatarain's, but other companies may also sell it.  It comes in both liquid and powdered form, and we used both.  The main ingredients are cayenne and salt.
Seasonings.  Onion, garlic, and lemon give it pizazz, as well as make for tasty eating.  There were some grapefruit trees in the yard, so a few of those went in the pot also.
Vegetables, etc.  Here is where the creativity comes in!  Potatoes and corn are the standards.  Sausage is another favorite.  In addition we had mushrooms and sweet potatoes, a south Louisiana touch.  Warning – folks will root out their favorites.
Cooking paraphernalia.   You will also need a 100 gallon pot or two with a basket insert and some propane burners.  Also utensils to stir with, remove hot pots, etc.  Think big for everything.
Purge the crawfish and prepare the other ingredients.  Fill the pot around one third full of water and add a jar (4.5 pounds) of powdered seasoning and a bottle (12 ounces) of the liquid.  Bring to a boil.  (Less water is better so as not to dilute the seasoning – it needs to just cover the crawfish.)  Add a sack of crawfish.  Cooking time is about 3 minutes after the water returns to a boil, or 12-15 minutes after they are added, depending on size.  Test – if they peel easily they are ready.  Add the remaining ingredients.  The crawfish will continue to absorb seasoning and cook a little more.  Hosing down the pot or using frozen corn can slow the cooking process.   Serve.
The same water can be used for another (only) sack.  Add another bottle of crab boil, and a little powder.  Repeat.
Click for captions and to enlarge.
2 Responses to "How to Boil Crawfish"
Leave a Reply