Lovely Lagniappe
Submitted by Christi
Who doesn't love a little lagniappe? It is always nice to get (and give) a little something extra, which is the definition of lagniappe (pronounced lan-yap). Recently, I received a lagniappe from the lovely evening out at Le Petit Salon. If you read that story, you may remember, the oysters that were shucked and served on in the courtyard of the Salon. These were served before the program and there were many left, so in the spirit of true hospitality, the wonderful hostesses insisted that we take some home. I was handed a container of at least a quart of plump, juicy, brine, freshly shucked oysters to take home! This is enough for my husband and me to make two generous meals.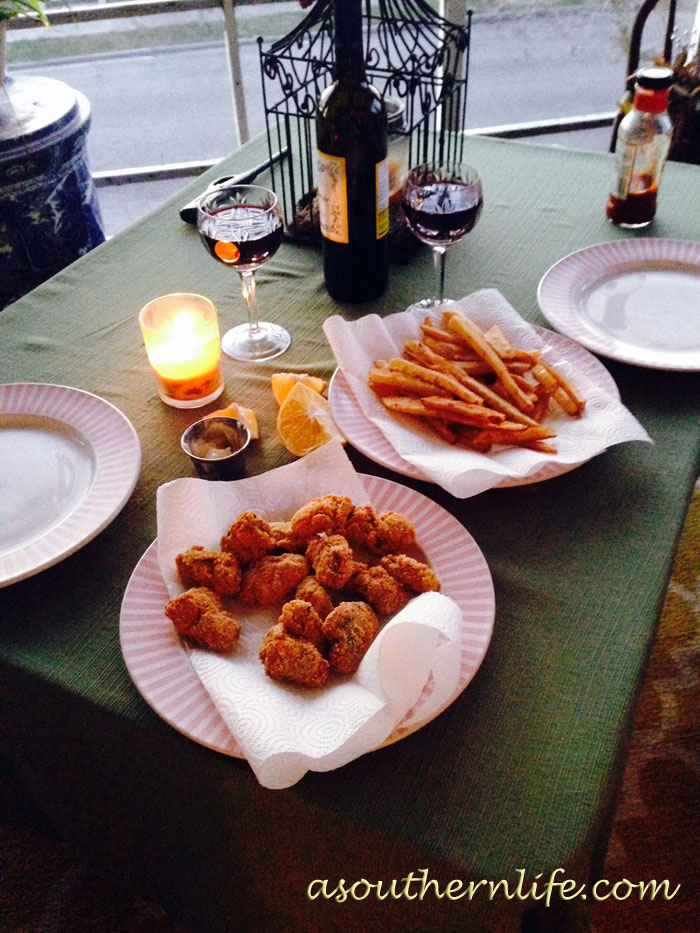 First up – fried oysters on the porch (shown above) with my husband's famous french fries.

These were served with another special lagniappe bottle of wine that was given to me by neighbor, Monica. Thanks Monica! The oysters were coated with a little seasoned cornmeal that had been mixed with a little flour and then sizzled in some hot oil for a couple of minutes. I mixed up a little tarter sauce and also offered some cocktail sauce along side and it made for a quick and delicious meal out on the porch. Nothing fancy, just simple goodness at its best. How do you like my "fancy" table setting?
Next up were these incredible pan roasted oysters. If you have never had this, you HAVE to try it. I was first introduced to this by a very nice 83 year old man, who is quite the foodie, who insisted that I try some of his at Pascal's Manale, here in New Orleans. They are famous for their barbecue shrimp, but this was quite the taste sensation. Apparently, pan roasted oysters originated at the Palace Cafe, which is one of the Brennan's restaurants. Whoever put this together is a genius. It is herbs and shallots sauted in a little butter with the oysters added, then  covered with breadcrumbs that have been mixed with parmesan and broiled until you have an oyster dish that is good enough to hurt you!
Lagniappe is a wonderful word and getting lagniappe is even more wonderful. My lagniappe for you today is my recipe for pan roasted oysters and my wish for you to have a great weekend!
Buttery, herby oysters, sautéed and roasted under the broiler.
Combine the breadcrumbs and Parmesan cheese in a small bowl and set aside.

Melt butter and add olive oil over medium heat. Sauté shallots and garlic in the butter/oil mixture until they are wilted. Add the oysters, herbs and cream and heat until the oysters just start to firm up.

Remove pan from heat. Place oyster mixture in a casserole in a single layer or in 2 individual oven-safe pans. Spread breadcrumbs over the top and broil in the oven for 5-6 minutes until the breadcrumbs are toasted.

Serve while hot with hot, crusty french bread.
Let's stay in touch!
Today, I am joining Tablescape Thursday at Between Naps on the Porch and Foodie Friday at Designs by Gollum
Leave a Reply