Yummy Yakamein – aka Old Sober
Submitted by Christi
Sometimes called, "Old Sober" because of its reported ability to cure a hangover, yakamein is a yummy stewed beef soup, served over noodles and garnished with a boiled egg and sliced green onions. Hungover, or not, this is a tasty soup that can be made ahead and assembled as needed.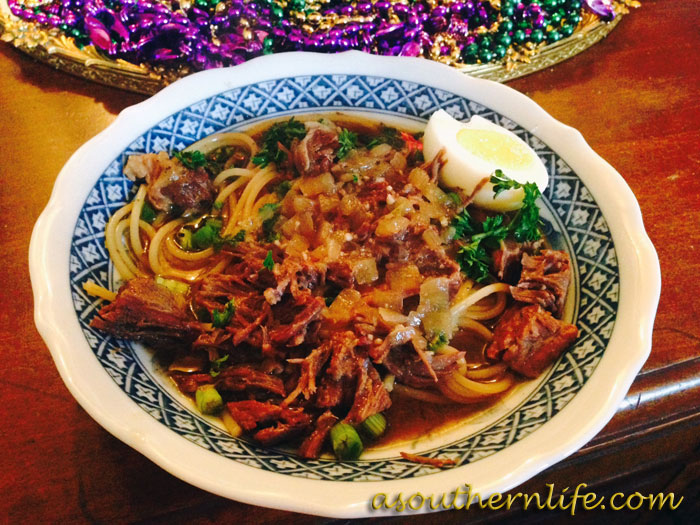 Since we are approaching Superbowl Sunday and Mardi Gras weekend all at once, what better time could you have for making this. I'm sure no one reading this will need a hangover cure, right? But, just in case, it doesn't hurt to have some of this available for anyone who might need some restoration.
I don't know if it is the briny beef broth, or the egg that does the trick. Do you know that, according to one source, eggs contain two amino acids that go to work to help you feel better: taurine and cysteine. Taurine has been shown in studies to reverse liver damage caused by a night of heavy drinking and to help the body flush out toxins more quickly. Cysteine directly counteracts the effects of acetaldehyde, a nasty by-product of alcohol metabolism that is more toxic than alcohol itself (it causes headaches and chills). Just thought I'd share.
You can find yakamein in New Orleans at festivals, markets and in many restaurants. It is an interesting mix of Asian and Creole flavors that warms you up. Here is the recipe.
Stewed beef and noodle soup that will cure what ails you!
Stewed beef and noodle soup that will cure what ails you!
Saute onion and garlic in olive oil until soft (about 5 minutes).

Season beef with salt and pepper. Add water to onion and garlic and then add the beef. Add other seasonings to the water and stir to combine. Bring to a boil.

Reduce heat and simmer the meat for around 2 hours until the meat is very tender.

Remove meat from the broth and shred it with 2 forks. Return meat to the broth and adjust seasonings, as needed. Prepare spaghetti noodles and eggs.

To serve, place noodles in a bowl. Remove some of the shredded beef from the broth with a slotted spoon and place it over the noodles. Ladle some of the broth over the beef and noodles and garnish with sliced green onions and boiled egg that has been sliced in half. Serve ketchup, soy sauce and Worcestershire sauce as condiments.
Some people add the Worcestershire sauce to the broth. I may do that the next time I make this. Also, some recipes add beef bouillon or beef broth to the water. I tried both. I thought  these made the broth a little too salty. I might try adding just a little broth but be sure to check the seasoning as you go.
You can find out how to make perfect hard boiled eggs here (at the end of the post).
Today, I'm joining
Foodie Friday with Designs by Gollum
Let's stay in touch. Subscribe here:
Leave a Reply