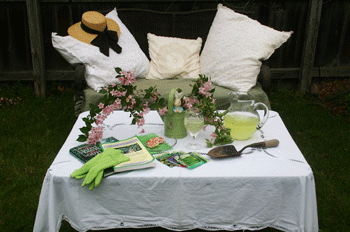 Have you noticed the new tab at the top of the page?  It is called Christi's Reads. I am and always have been an avid reader. I wanted to share with you what I am reading now and what I have read in the past that I really enjoy. I would love to hear about what others are reading and what you enjoy.
If you are a reader, you are probably like me and always looking for a new good book to read. Let's share our ideas and reviews! I hope you will enjoy this new feature and I would love to have you participate.
To let me know what you are reading or have read and would recommend, email me at christi@asouthernlife.com. I'll work on getting the comments to work on that page but in the meantime, please don't hesitate to send your reviews and recommendations to be by email!
Happy reading!
Today's Lagniappe:  Oatmeal Carmelitas
This with a cup of coffee and a good book . . .
Preheat oven 350
2 C Flour
2 C oatmeal
1-1/2 C brown sugar
1 t baking soda
1/2 t salt
1-1/2 cup butter, melted
Combine the above. Press 1/2 of the above mixture into greased 9×13 baking dish. Bake 10 minutes.
Top with 1 – 12 oz pkg chocolate chips
1 C chopped nuts
Top this layer with 1-1/2 C caramel ice cream topping combined with 6 T flour. Drizzle over the chocolate and nuts.
Crumble the remaining oat mixture over this layer and bake 15-20 minutes or until golden brown.