Southern Kudzu
Submitted by Christi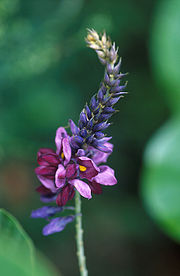 I recently read the book Revenge of the Kudzu Debutantes by Cathy Holton. It is a pretty funny read, especially when it gets to the part about the Kudzu Ball. Back in the day, when I was involved in politics, a woman called me in a panic about kudzu. "It's taking over everything!" The poem Kudzu by James Dickey says:
In Georgia the legend says,
That you must close your windows
At night to keep it out of the house
The glass is tinged with green, even so . . .
The kudzu vine grows as much as a foot a day in Summer months, covering everything in its path. Well, in the South, we are nothing if not resourceful. We have found many uses for kudzu. Here are just a few:
Basket makers have found that the rubber-like vines are excellent for decorative and functional creations. Ruth Duncan of Greenville, Alabama makes over 200 kudzu baskets each year and says she doesn't mind that people call her the "Queen of Kudzu."
Regina Hines of Ball Ground, Georgia, has developed unique basket styles which incorporate curled kudzu vines. She weaves with other vines as well, but says that kudzu is the most versatile.
Nancy Basket of Walhalla, South Carolina, makes paper from kudzu which she uses in colorful collages. Her designs vary from geometric shapes to images of rural life and Native American themes.
Diane Hoots of Dahlonega, Georgia has developed a company to market her kudzu products which include kudzu blossom jelly and syrup, kudzu baskets, and books. Her book, Kudzu: The Vine to Love or Hate, co-written with Juanita Baldwin, is an in-depth study of the South's love/hate relationship with the vine. The book includes recipes and basket making instructions.
Henry and Edith Edwards of Rutherfordton, North Carolina have found many uses for kudzu over the past 30 years. Henry produces over 1,000 bales of kudzu hay each year on his Kudzu Cow Farm. The hay is high in nutritive value, but many people have found kudzu difficult to cut and bale. Henry says the secret is to "cut it low and bale it high."
Edith Edwards makes deep-fried kudzu leaves, kudzu quiche, and many other kudzu dishes. She found recipes in The Book of Kudzu: A Culinary and Healing Guide by William Shurtleff and Akiko Aoyagi, and thought this was a good use for a plentiful resource. She has demonstrated kudzu cooking for clubs, schools, and visitors to the Knoxville World's Fair.
Kudzu blooms the end of July through September. It has attractive bunches of elongated, delicate purple flowers with a fragrance reminiscent of grapes. Use the blossoms to make jelly.
To cook with kudzu, Choose only the smallest, most tender leaves. Large leaves are too tough. Even the small leaves have plenty of body. Fresh and tender, the leaves have a flavor similar to that of a green bean. That's because kudzu is a member of the legume family.
Wilma Clutter says: "Kudzu quiche and deep-fried kudzu leaves are wonderful. I've also eaten small kudzu leaves marinated in Italian dressing served on tofu sandwiches."
Lagniappe: A recipe for Kudzu Rice Quiche
(from http://www.geocities.com/kudzufest/kudzurecipes.html)
6 servings
4 eggs
2 cups cooked rice
½ cup finely grated Swiss cheese
½ pound fresh, young kudzu leaves
2 tablespoons butter or margarine
½ teaspoon salt
1 cup cottage cheese
¼ cup grated Parmesan
6 tablespoons heavy cream or evaporated milk
¼ teaspoon nutmeg
6 drops hot sauce
• Preheat oven to 350 degrees. Grease a 9-inch pie pan or use an 8- or 9-inch square cake pan. In a medium bowl, beat 1 egg. Add rice and Swiss cheese. Stir well. Spread mixture evenly in prepared pan, making a crust. Refrigerate until ready to fill and bake.
• Cook kudzu leaves in a small amount of water, press to remove moisture and chop fine. Add butter and set aside.
• In a medium bowl, beat remaining 3 eggs. Stir in salt, cottage cheese, Parmesan cheese, heavy cream, hot sauce and nutmeg. When it's blended, stir in Kudzu. Pour into prepared rice crust. Bake 30-35 minutes or until firm.
Tags: gardening, Living, recipes
Leave a Reply