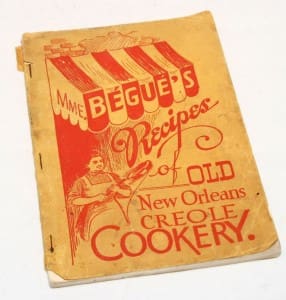 8 days til Spring!
Yesterday, I was in my home office looking for one of my gardening books when I came across Mme. Begue's Recipes of Old New Orleans Creole Cookery. I had forgotten having this little gem. It is copyrighted @1937. The price on the inside cover was .60 but it was marked out in pencil and .75 was written in. Along with the recipes is an interesting story.
Shortly before the end of the War between the States, in 1863, a two-story brick building at the downtown corner of Madison and Decatur Streets, became a distinctive dining place . . .It was then, as was the custom, a "Coffee House", and the proprietor was a Creole named Louis Dutrey. He attended bar, saw to the proper mixing of the beverages, and to meeting all guests. The presiding genius of the kitchen, where was prepared the delectabel dishes that lured the husky butchers of the French Market to Louis Dutrey's Coffee House for their "second breakfast," was the proprietor's wife, she who had been Elizabeth Kettenring when she landed in New Orleans in 1853, a strapping German girl, born in 1831 in Bavaria.
Apparently, after Mr. Dutrey died, Elizabeth went on to marry Hypolite Begue who had worked for her, tending bar and was 8 years her junior (tre risque!).  In 1880 the coffee house name was changed to Begue's and then later Madame Begeue's

Many of the recipes call for frying in hot lard as does this recipe for Lost Bread or Pain Perdu:
Take six slices of stale bread and soak in sugared milk, to which has been added a large spoonful of brandy. Drain and when ready to use turn each slice in beaten eggs. Fry in hto lard, brown well on both sides, sprinkle with powdered sugar and serve hot.
I enjoyed looking through this little book and reading about Elizabeth's life and recipes. In 1900 Elizabeth wrote down her recipes. "In spite of her German birth she spoke French fluently, but she never became proficient in the English tongue, so when she set down in words the secrets of her cookery they were written in the language of France." Madame Elizabeth Begue died October 19, 1906.
Today's Lagniappe: Pain Perdue
or as we call it – French Toast
* 4 (1/2 inch) slices egg bread
* 1 egg
* 5 tablespoons unsalted butter
* 3 tablespoons white sugar
* 1 pinch salt
* 1/2 teaspoon ground cinnamon
* 1 pinch ground nutmeg
* 1/3 cup all-purpose flour
* 3/4 cup milk
* 3/4 teaspoon vanilla extract
DIRECTIONS
1. Cut the bread and place on a wire rack to dry out a little as you prepare the batter.
2. Whisk the egg to blend. Melt 3 tablespoons of the butter in a saucepan or on the stovetop and allow to cool slightly. Whisk the sugar, salt and spices into the egg. When the butter has cooled slightly, slowly drizzle it in to the egg, whisking all the time. A little at a time, add the flour to the egg mixture to make a smooth thick paste. After it is all added, slowly blend in the milk and finally the vanilla. Whisk until just smooth and set aside.
3. Heat the remaining butter in a large skillet over medium heat. Dip a slice of the bread in the batter and allow to soak for 30 seconds, no more. Remove from the batter and allow the excess to drip off, back into the bowl. Place the battered slice in the skillet. Repeat with the remaining slices. Cook until golden on one side and then flip to brown the other. Serve immediately–a fresh squeeze of lemon juice and a good dusting of powdered sugar is traditional.