More Southern Porch
Submitted by Christi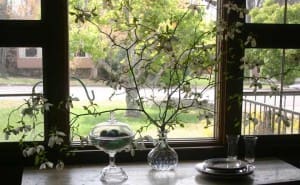 Here is a picture of the dogwood branches that I had originally planned to use for my Easter brunch tablescape. The table on the porch is big enough for them but the wind was not cooperating. I caught the branches and turned the whole thing over and, of course, spilled water on my tablecloth. I ended up moving the tablescape inside and my table wasn't big enough for this arrangement. I thought the dogwood branches were pretty in this carafe and wanted you to see it. Sorry the pic isn't so great.

After my post yesterday Southern Porch, some of my Facebook friends helped me out by telling me what they thought a good front porch MUST have. Here are some of their answers:
Renea
Rockers and a swing!
Anne
At least two exposures (sides of the house).
Susan
Hanging ferns or colorful flowering plants.
Woody
Definitely a porch swing…and creaky steps.
Carol
a blue ceiling!
a view
Dean
A good porch should have a loyal dog laying at the top of the front steps waiting to welcome friends and chase off others.
Anne
Three cats are equal to a dog, if one is a Tortie.
A boot scraper, too.
Missy
Mine has to have rocking chairs and I love windchimes. It needs to be a big porch too 🙂
Missy
oh and who can forget a swing!
Dean
And a screen door into the house so that you can open the main door and allow the sounds and smells from the kitchen spill out onto the porch!
Christi – I love the screen door where the sounds and smells from the kitchen spill out so I asked, "what should be cooking in the kitchen and this is what they said:
Erica
A crumb top apple pie served with sweet milk and followed up with some ice cold sweet tea! mmmm….
Anne Hillebrand
Fried chicken, green beans, yellow squash, cornbread sticks and baked apples.
Dean Workman
Grandma always had something cooking. Blackberry cobbler was my favorite. She would send me and my cousin out to pick them earlier in the day.
I loved all of these responses and just had to share them with you. What do you think a good porch MUST have?
Today's Lagniappe: Perfect Lemonade
I found this posted by Elise on Simply Recipes and thought it would be great to make to drink on the porch. My mama makes great lemonade. I think she will like this recipe.
Ingredients
* 1 cup sugar (can reduce to 3/4 cup)
* 1 cup water (for the simple syrup)
* 1 cup lemon juice
* 3 to 4 cups cold water (to dilute)
Method
1 Make simple syrup by heating the sugar and water in a small saucepan until the sugar is dissolved completely.
2 While the sugar is dissolving, use a juicer to extract the juice from 4 to 6 lemons, enough for one cup of juice.
3 Add the juice and the sugar water to a pitcher. Add 3 to 4 cups of cold water, more or less to the desired strength. Refrigerate 30 to 40 minutes. If the lemonade is a little sweet for your taste, add a little more straight lemon juice to it.
Serve with ice, sliced lemons.
Serves 6.
Tags: Southern Living, Southern Porch
Leave a Reply