Southern Fish Fry/Robin's Nest
Submitted by Christi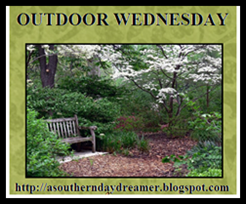 It is Outdoor Wednesday and memories of fish fries! Click the pic above for more of Outdoor Wednesday!
I have to interrupt my Southern food series to show you what this pretty little robin has been doing on my porch. After you see the pics, read about my Grandpa's fish fries – a Southern tradition!
So, she got her nest built and we started waiting for eggs. We have to hold the camera up to the nest and let it auto-focus to get the pics. We cannot see in the nest from the porch. We kept taking pictures of the empty nest and then, finally:
Robins will lay from 3-6 eggs and then they will incubate for around 15 days. We will be looking for more eggs and keeping you up to date on their progress in the coming weeks!
Now, back to that fish fry! I just want to tell you a quick story about my Grandpa's fish fries. If you've been reading my blog, you'll remember that Grandpa is 93 years old this year. He used to hold the best fish fries. He used to go fishing in Canada every year and he would bring back fish and have great fish fries. Eventually, the limit that he could bring back got too small for his parties. He then had a friend that had a trot line on Lake Texoma. He said he would get around 100 pounds of fish from him for the fish fries.
After a while, so many of the local politicians were involved and vying for time that it started getting out of hand. One summer, Grandpa's beautiful wife, Betty (who had done a lot of the fish fry work) tripped over their Great Dane, Patrick and broke her arm. That was the end of the fish fries. Everyone was really disappointed, but, it was great fun while it lasted!
Southerners have always loved to gather for food and friendship in the steamy hot days of summer. This is one of my memories of those times.
Today's Lagniappe: Southern Fried Catfish
There are a million ways to do it. Here is how I do it.
4 catfish fillets
1/2 cup cornmeal
3 tablespoons flour
creole seasoning to taste (I use Emeril's Essence or Tony Cherchere's)
salt to taste (depending on what creole seasoning you use)
vegetable oil
Pour vegetable oil to a depth of about 1 inch in a large cast iron skillet.
Heat the oil to around 375.
While oil is heating, mix cornmeal, flour and seasoning.
Coat catfish fillets in flour.
Once the oil is hot, fry the fish until golden brown and it flakes easily with a fork.
Drain the fish on paper towels and serve hot with tarter sauce.
Tags: Southern Living, Southern Porch
38 Responses to "Southern Fish Fry/Robin's Nest"
Leave a Reply