Southern Parents
Submitted by Christi
As promised, here are more pictures. Today we are taking part in Outdoor Wednesday with A Southern Daydreamer.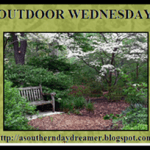 See more outdoor Wednesday by clicking on the pic above.
Today's Lagniappe:  Shrimp Dip
My Mama used to make a similar version of this that I just loved with tortilla chips, enjoy!
1 can shrimp (4-6 oz.), diced
1 3-4 oz package cream cheese, softened
1/3 cup chili sauce
2 teaspoons grated horseradish
1 teaspoon fresh lemon juice
1/2 teaspoon fresh dill, minced
1/4 teaspoon garlic powder
Mix all ingredients together well, adding the shrimp last.
Chill at least two hours or overnight.
Tags: Southern Robin
30 Responses to "Southern Parents"
Leave a Reply