A Southern Second Chance
Submitted by Christi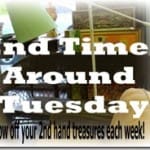 It's 2nd Time Around Tuesday!
My dog Bailey is my story today.
Bailey was 2 years old when we found him in a shelter in Paragould, Arkansas. It was his 2nd time in a shelter in his short 2 years. He was filthy dirty and a bit afraid. When we found him, we called immediately. He was available. We drove the three hours to meet him. We took a toy but he had no idea what to do with a toy. A treat was a better attention getter.
Poor Bailey had just come from the vet where he had been neutered and had his shots. He was not a happy camper. He slept in my lap for the entire drive back. When we got home, he was afraid he would get in trouble for going in the house. We put him on the bed with us and he looked at us like we were crazy.
That was four years ago. It took nearly a full year for little Bailey to get to really, really trust us. He had a lot of baggage. Now, as I write, he lays next to me on the floor. He sleeps at our feet on the bed at night. He loves to be next to us and is pretty demanding these days about treats. He chases squirrels from my bird feeder and is great about guarding the house.
Bailey just needed another chance. We are so glad he got it with us. He's my little bundle of joy and a valued member of the family!
Today's Lagniappe: Peanut Butter Bars
Sometimes you just gotta have 'em
1 cup butter, melted
2 cups graham cracker crumbs
2 cups confectioners' sugar
1 cup peanut butter
1 1/2 cups semisweet chocolate chips
4 tablespoons peanut butter
Directions:
1.     In a medium bowl, mix together the butter or margarine, graham cracker crumbs, confectioners' sugar, and 1 cup peanut butter until well blended. Press evenly into the bottom of an ungreased 9×13 inch pan.
2.     In a metal bowl over simmering water, or in the microwave, melt the chocolate chips with the peanut butter, stirring occasionally until smooth. Spread over the prepared crust. Refrigerate for at least one hour before cutting into squares.
Tags: Southern Living
16 Responses to "A Southern Second Chance"
Leave a Reply