Southern Porch Accessory
Submitted by Christi
I wanted to share with you a picture of a little garden bench that was given to me. It was unassembled and plain wood when I got it. I painted it and hung it on the wall of my porch.
I think this little bench was originally intended to be used to set plants on as an accent. I like finding a different way to use things. This makes a nice little shelf for my porch.
Isn't it sometimes the small things that make us smile? This little bench is one of those things. Really, in times like these, it is good to notice little things like how the grass is now green and the birds singing and the flowers blooming. These things make the big things not seem quite so bad.
Stay tuned tomorrow for an update on the robin's nest – new eggs with pics!
To see more 2nd time around posts, visit Diane for 2nd Time Around Tuesday.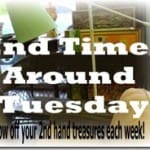 Today's Lagniappe: Key Lime Bars
Something  refreshing to serve on the porch.
1 cup finely ground graham cracker crumbs
2 1/2 tablespoons finely ground graham cracker crumbs
1/3 cup sugar
5 tablespoons unsalted butter, melted
3 large egg yolks
1 1/2 teaspoons finely grated lime zest
2/3 cup fresh Key lime juice , (about 23 Key limes total)
1 cup sweetened condensed milk, (14 ounces)
2 Key limes, thinly sliced into half-moons
Make crust: Preheat oven to 350 degrees. Stir together graham cracker crumbs, sugar, and butter in a small bowl. Press evenly onto bottom of an 8-inch square glass baking dish. Bake until dry and golden brown, about 10 minutes. Let cool completely on a wire rack.(Leave oven on.)
Make filling: Put egg yolks and lime zest in the bowl of an electric mixer fitted with the whisk attachment. Mix on high speed until very thick, about 5 minutes. Reduce speed to medium. Add condensed milk in a slow, steady stream, mixing constantly. Raise speed to high; mix until thick, about 3 minutes. Reduce speed to low. Add lime juice; mix until just combined.
Spread filling evenly over crust using a spatula. Bake, rotating dish halfway through, until filling is just set, about 10 minutes. Let cool completely on a wire rack. Refrigerate at least 4 hours (or overnight).
Cut into 2-by-2-inch bars. Garnish bars with whipped cream and a slice of lime.
Tags: Southern Living, Southern Porch
8 Responses to "Southern Porch Accessory"
Leave a Reply