Southern Table at The Cottage
Submitted by Christi
My friends Linda and Doris and I had a great time setting tables this week. We were at The Cottage, a great little store here. We found great pieces in the store to set a table. The owner of The Cottage is a great guy, but, unfortunately, he is looking to retire. If anyone out there would love to have a great place like The Cottage, email my friend Linda. She is a great real estate agent and can give you more information. You may remember her from a previous post titled, Southern Lady. If you missed that, go check it out. You will be hearing more from Linda later this month. So, on with the show!
This table was so much fun to do. Most of the fun was doing it with friends. Y'all check out The Cottage website. Everything on this table is for sale. I would love to buy it all myself! Thanks for visiting! Oh, I almost forgot. We had some really pretty glasses picked out to go with this but we forgot them! We must be getting old!
See the other great tables at Between the Naps on the Porch.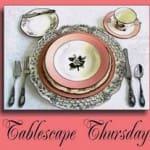 Today's Lagniappe: Fried Green Tomatoes
Since we had a table called "In the Garden," I thought a recipe for something from the garden would be good and Fried Green Tomatoes fit the bill!
4 to 6 green tomatoes
salt and pepper
cornmeal
bacon grease or vegetable oil
Preparation:
Slice the tomatoes into 1/4 – 1/2-inch slices. Salt and pepper them to taste. Dip in meal and fry in hot grease or oil about 3 minutes or until golden on bottom. Gently turn and fry the other side. Drain on paper towels. A yummy Southern treat!
Tags: Southern Friends, Southern Table
38 Responses to "Southern Table at The Cottage"
Leave a Reply